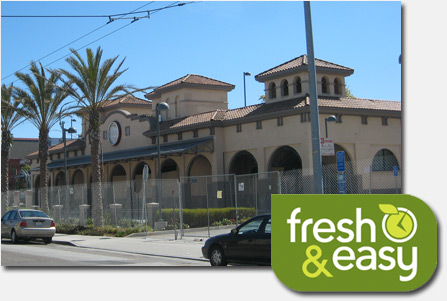 Since I started the blog, a few people have written in asking what's happening with the long-abandoned property at 32nd Avenue and Clement Street.
When I was young it was a Safeway (great for 10 cent Cragmont Cola and Hostess pies after school!), then an Albertson's. But the lot has been surrounded by cyclone fencing for the past few years.
In its May 2009 issue, the Richmond Review newspaper reported that the Fresh & Easy Neighborhood Market chain signed a lease to occupy the space in beginning in 2010.
The market will occupy roughly half of the 30,000 sq. foot building with the rest housing a CVS pharmacy. According to the article, "the market has a five-year lease with three additional five-year options, giving it up to 20 years at the location."
Fresh & Easy's mission is to provide "a simple shopping experience with everything you need right in the neighborhood." And they're green to boot, using energy efficient equipment in their stores and operations. And for those of us with busy lifestyles, Fresh & Easy specializes in easy-to-prepare meals.
Exactly when in 2010 Fresh & Easy will open remains to be seen. Currently there are plans for five new stores in the Bay Area not including the 32nd Avenue location, which will help Fresh & Easy obtain "a "critical mass" of new stores in Northern California to justify a central distribution center".
What do Fresh & Easy customers have to say? A Los Angeles location is well-rated on yelp.com, averaging 3.5/5 stars among 98 reviews.
What do you all think? Is this the right fit for the Richmond? I think so but let me know your thoughts by leaving a comment.
UPDATE: (Thanks to Bob who left a comment): An Examiner story from June 17 says the opening is delayed indefinitely. "Now it appears those plans are on hold. Spokesman Brendon Wonnicott said the economy has forced Tesco to slow those openings. "The main thing for us is to basically evaluate the best time to open given the current economic climate," he said. "That said, we don't have an announced opening time frame."
Sarah B.