2012 Outside Lands Guide is here
==========================
Outside Lands Music & Arts Festival comes to Golden Gate Park this Friday through Sunday.
The organizers have been working closely with the Richmond District Police and doing a better job of communicating with neighbors. So hopefully a lot of last year's problems won't be repeated.
The festival promises to pack a massive musical punch, with outdoor festival favorites like Dave Matthews Band, Pearl Jam, Black-Eyed Peas, Jason Mraz and Ween headlining the event, along with dozens of other bands. See the full lineup of bands or check out the hour by hour schedule.
Single-day ($89.50) and 3-day ($225) tickets are still available here. You can also buy them without a service charge starting at 12noon on Wednesday, August 26th at the festival box office located at Speedway Meadow at the intersection of JKF and Transverse Dr.
If you're not attending, you can also catch live highlights on Youtube at http://www.youtube.com/outsidelands, starting Friday night.
As a resident, here's what you should keep in mind this weekend when thinking about traveling in or around Golden Gate Park.
RESIDENT SERVICES
Someone blocking your driveway? Drunken revelers belting out Dave Matthews songs on your corner? Keep these numbers handy just in case.
Outside Lands Community Hotline: 415-933-6901 | open 10am-11pm, Fri – Sun
Parking Enforcement: 415-553-1200. In addition to the usual staff, the festival has 2 dedicated tow trucks and 1 Parking Control Officer on each side of the park.

FESTIVAL HOURS & LOCATIONS
The festival will take place in and around the Polo Fields, Speedway and Lindley Meadows in Golden Gate Park (see festival map). Festival hours are below; keep in mind that gates open 90 minutes before the first concert each day. So if it says 11am, assume the crowds will start arriving 90 minutes earlier.

Friday: Open at 11:00am | Close at 10:00pm
Saturday: Open at 10:30am | Close at 10:00pm
Sunday: Open at 10:30am | Close at 9:20pm

GGP TRAFFIC CLOSURES
The festival will result in the western end of Golden Gate Park being closed off to traffic. The only major thoroughfare that will be open is Park Presidio Blvd/19th Avenue. Similar to how it is on Bay to Breakers except it lasts for three days.

The following Golden Gate Park entrances will be closed to the public from Thursday, August 27th at 8:00PM through Sunday, August 30th at 11:00pm:
On north side of the park:
* Transverse Dr at Crossover Dr
* JFK Dr at Transverse Dr
* 30th Ave
* 36th Ave
* 43rd Ave (Chain of Lakes)
* 47th Ave
* The Great Hwy at JFK Dr.
On the south side:
* Martin Luther King Jr Dr at Crossover Dr
* 25th Ave
* Sunset & Irving
* 41st Ave (Chain of Lakes)
* Martin Luther King Jr Dr at Lincoln Ave
The red X's on the map below indicate which entrances will be closed to traffic from Thursday night through Sunday night.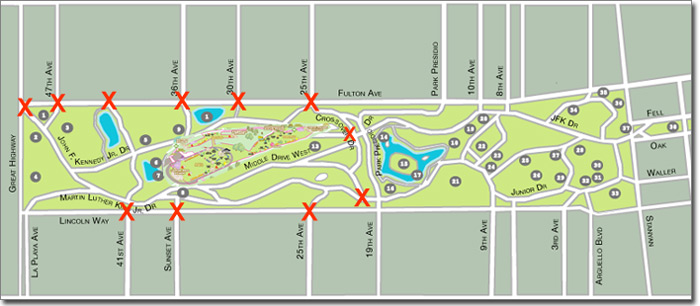 In addition, a good part of the festival area will be cordoned off with cyclone fencing (no sneaking in, people!). So even if you're just envisioning a stroll through the park, plan ahead as some familiar routes may not be accessible. Click here to find out more about the fencing schedules for the Polo Fields, Speedway Meadow, Lindley Meadow and other park areas.
GETTING TO THE FESTIVAL
If you are attending (or know someone who is), I wouldn't even try driving and parking near the park. With all the road closures in GGP, parking will be maxed out on the adjoining streets of the Richmond and Sunset Districts.
Outside Lands has organized Bauer shuttles that leave from key public transit hubs to the festival. Tickets for the shuttle range from $9 for a one-day, roundtrip pass to $38 for a 3-day VIP pass. Buy shuttle passes here. The shuttle routes are:
Blue Line – 4th & King Street Caltrain Station
Red Line – 16th & Mission Street Bart Station
Green Line – Fort Mason Center or Presidio Officers Club
Yellow Line – Daly City Bart Station
If you're arriving on foot, refer to the map above to see which GGP entrance you want to use.
For two-wheel travelers, complimentary valet bike parking will be available at Marx Meadow; best entrance to reach it is at 30th Avenue and Fulton. The festival has also provided a bike route map for the park.
And if you're arriving some other way (parachute? ninja style? on skis?), may the force be with you. 🙂
WHAT YOU CAN BRING
Considering you'll be schlepping your stuff for a decent distance, make sure you're not turned away at the gates for harboring contraband. Here's what you're allowed to bring into the music venues:
* Blankets
* Soft-sided coolers
* Regular-size/unframed backpacks
* Two factory-sealed water bottles up to 1 liter each
* Empty Camelbak or other empty plastic container (i.e., Nalgene bottle)
* Ice in soft-sided cooler or Camelbak – no large bags allowed
* Binoculars
* Personal cameras (i.e., small digital cameras or point-and-click 35mm cameras) – cameras with any type of detachable lenses are prohibited
* Soft sided collapsible chairs
OCEAN BEACH CLEANUP
As part of their efforts to clean up our community, the festival is organizing two Ocean Beach cleanups on Saturday and Sunday from 10am – 12pm. Meet at stairway 17 on Ocean Beach (across from the Beach Chalet restaurant) to help out. Who knows, you might be trolling for trash alongside a rock star! More details here
Whether you're attending Outside Lands or just get to hear the strains of music through the summer fog, I hope everyone has an enjoyable, music-filled weekend.
Rock on!
Sarah B.