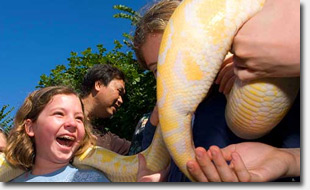 There's a lot going on in the park this weekend! Whether you're looking for good music, fun events for the kids, art, or just a cold beer, the park has got you covered this weekend.
A lot of these events are taking place in and around the museums area, so be prepared for tough parking. Walk, bike or bus is recommended!
Academy of Sciences Anniversary festivities
Saturday & Sunday, 9am – 3pm
Two million visitors have walked through their doors since they re-opened a year ago. That's a lot of fingertips pressed to fish tanks! To celebrate their birthday, the Academy is hosting all kinds of fun events this Saturday and Sunday. Watch dance performances, listen to African drummers, learn the secrets of the stars, explore the living roof, catch their new planetarium show "Journey to the Stars" narrated by Whoopi Goldberg, and much, much more. Oh and live snake demonstrations too! See the full schedule of events
Independent Arts Expo | Music Concourse | Saturday, 11am – 6pm
Come out and meet your neighborhood blogger at the 10th annual Independent Arts Expo, billed as the "only grassroots connection fair for independent arts, music & culture". I'll have a table for the blog so pop by to say hello, check out some old photos and newspapers from our 'hood or pick up a Richmond tee. There will be plenty to see and do at the expo, including live mural painting and over 200 exhibitors.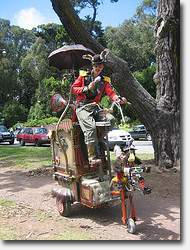 Tour de Fat | Speedway Meadow | Saturday, 11am – 5pm
Oil your bike chains and don your capes, crowns, tutus and tuxedos! Tour de Fat is going to be a hoot and holler when it rolls into San Francisco. The ballyhoo of bikes and beer is sponsored by the New Belgium Brewing Company, makers of the acclaimed Fat Tire beer. Enjoy performance, a bike parade, and "afternoon ballyhoo". I swear, that's what it says!
Now & Zen Fest 2009 | Sharon Meadow | Sunday, 12noon – 5pm
Put on by Alice 97.3 radio, big names will be out for this free music festival. Listen to live performances from Train, Colbie Caillat, Howie Day, and Dashboard Confessional. Plus lots of Zen Fun from body art to psychic readings. Did I mention it's free? Oh yeah.
Sarah B.
Here's an unofficial video for Train's latest song, "Hey, Soul Sister," from their upcoming album, 'Save Me, San Francisco,' available October 27.