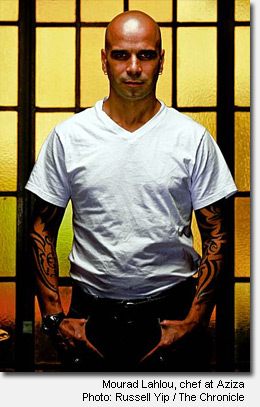 Sunday's paper featured articles on a century old Richmond District landmark as well as an up and coming restaurant that is poised to become legendary.
Native Son columnist Carl Nolte profiled the Cliff House as it celebrates is centennial this November. Next week the restaurant will put on a gala to "to mark 100 years of an institution that has had more lives than a cat."
Presidents and movie stars have dined there. So have legions of San Franciscans, who bring visiting relatives to see the ocean. Once I overheard a local resident point with pride to the view: "Well, Aunt Maude," he said, "There it is. The Pacific Ocean." "Is that so?" the lady said, sourly. "I thought it would be bigger."
Read "A centennial on the edge of the continent" at SFGate.com
Reporter Amanda Gold wrote a great article on Aziza, the local restaurant that has been whetting even more appetites since it earned a coveted star in Michelin's 2010 guide to Bay Area restaurants. The profile takes a closer look at chef and owner Mourad Lahlou, whose heavily tattooed arms and chest are a testament to the important moments in his career.
At 40, the chef-owner of San Francisco's Aziza has managed to fly under the radar – at least at the national level. That's about to change. With a PBS TV series and accompanying cookbook in the works, and an "Iron Chef" victory and a just-awarded Michelin star under his belt, the rest of the food world is starting to pay attention.
His style of cooking, blending traditional foods with Bay Area ingredients and contemporary technique, has led some to dub him the pioneer of modern Moroccan cuisine.
Read "Chef/owner of Aziza wears his past on his skin" at SFGate.com
Sarah B.