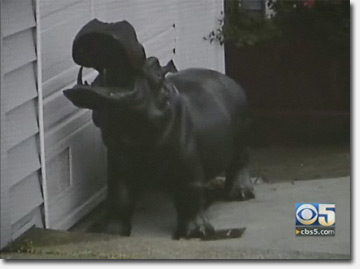 I've heard of pumpkin smashing and shaving cream fights on Halloween, but this is going a little far. CBS' Mike Sugerman reports that a 400 pound hippopotamus statue was stolen from in front of a Sutro Heights home last Friday night.
Homeowner and hippo wrangler Dannette Peltier says that Thomus the hippo has been greeting visitors to her home for the last 15 years, and that kids love to jump on his back and play.
On the open market, the bronze statue can be worth as much as $1 per pound to metal recyclers. Peltier is so anxious to have Thomus back in her front driveway that she is offering a reward for his safe return. Call the Richmond District Police Department (553-0123) if you have any information on Thomus' whereabouts.
Watch Sugerman's report on CBS5.com
How may thieves would it take to remove a 400 pound bronze hippo? This is so very Thomas Crown Affair. Here's hoping Thomus finds his way home soon.
Sarah B.