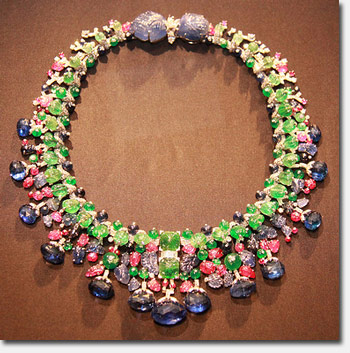 A new exhibition, Cartier and America opens today at the Legion of Honor in Lincoln Park. The show covers the history of the House of Cartier from its first great successes as the "king of jewelers and jeweler to kings" during the Belle Epoque through to the 1960s and 1970s, when Cartier supplied celebrities of the day with their jewels and luxury accessories.
The exhibition features pieces from the private Cartier Collection that is housed in Geneva. More than two hundred pieces are on display including jewelry of the Gilded Age and Art Deco periods, plus freestanding works of art such as the famous Mystery Clocks.
Marking Cartier's 100 years in the United States, the exhibition concentrates on pieces owned by Americans, including a pair of rock crystal and diamond bracelets worn by Gloria Swanson in the movie Sunset Boulevard, Daisy Fellowes' famous "Tutti Frutti" necklace, and the exotic flamingo brooch made for the Duchess of Windsor.
The show even has some royal flair to it, featuring the personal jewelry of Princess Grace of Monaco from the time of her wedding to Rainier III, Prince of Monaco, in 1956. The pieces, generously lent by H.S.H. Prince Albert II, include her engagement ring, a 10.47-carat emerald-cut diamond set with two baguette diamonds mounted in platinum, a grand diamond necklace, and more informal gold brooches in the form of birds. Bling to the bling!
The weekend is a great time to visit the exhibition and enjoy a Cartier themed brunch at the museum cafe, featuring French classics like quiche lorraine, nicoise salad and steak frites.
Cartier and America also offers some interesting related events, including an art history lecture from Martin Chapman, Curator of European Decorative Arts on January 7. And a couple times each month, the museum will put on a music program, La Vie Belle at the Legion, featuring live chamber music in celebration of the exhibition.
Cartier and America opens today and runs through May 9, 2010 at the Legion of Honor, open Tuesday through Sunday from 9:30 am – 5:15 pm (closed on Mondays).
Sarah B.
7:15 am | Posted under
Museums
|
1 comment