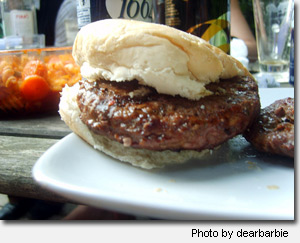 There's plenty of good hamburgers to be had in the Richmond, just stop in the legendary Bill's Place or Namu when the craving strikes.
But the Tee Off Bar & Grill at Clement and 32nd Avenue is serving up a different kind of burger. UrbanDaddy stopped into try their latest menu addition, the kangaroo burger. Served only on the weekends and with housemade sweet potato chips.
I know what you're thinking – I can't imagine biting into one either. And no, it doesn't take like chicken. Urbandaddy writes, "The juicy meat tastes somewhat like beef, but slightly sweeter, with a subtle tanginess, and it's lean like venison."
The traditional way to serve a 'roo burger in Australia is with sliced beets and a fried egg on top. So watch for that variation on the menu soon.
So what do you say? Will you be hopping over to the Tee Off next weekend for a 'roo burger?
Special thanks to Jim at SFCitzen for the tip.
Sarah B.