Will wonders never cease? Once again outsidelands.org delights me with another fascinating glimpse into what used to be in the Richmond District. This time it's the Cliff House Sky Tram which ran from May 1955 until 1961. The photo below was taken by Erma Zimmerman July 1956. More photos of the sky tram here and here.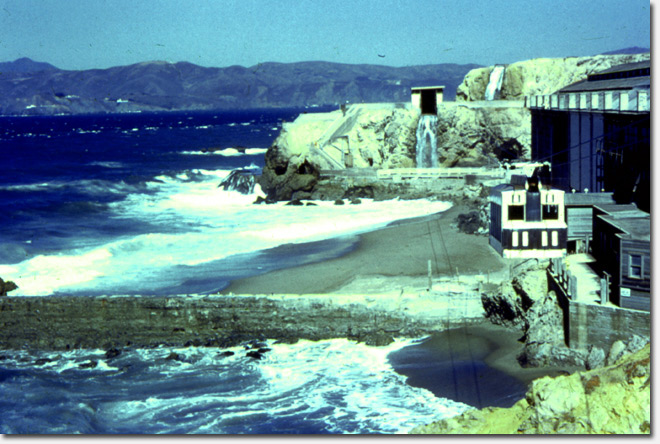 Here's more information on the Sky Tram from outsidelands.org:
The Sky Tram opened on May 3, 1955. Up to 25 passengers, paying a quarter each, had a slow ride from just below the Cliff House across the Sutro Baths basin to a Point Lobos promontory that had been outfitted with a two manmade waterfalls. This was not a roller-coaster, but a very slow sight-seeing glide on a couple of steel cables a few hundred feet above the ground. The whole trip took four minutes and you had to walk back.
Fog, wind, and perhaps general boredom shut down the Sky Tram in 1961. For many years the former Cliff House Sky Tram "station" served as a Golden Gate National Recreation Area visitor's center. That building was torn down during the 2000 renovation of the Cliff House.
And check out the video below of the sky tram, shot by Ron Biagini in 1960 (courtesy of outsidelands.org). The video includes footage of the installed double waterfall and broken windows of the Sutro Baths building.
Outsidelands.org is a website belonging to the Western Neighborhoods Project, which is a nonprofit organization formed in 1999 to preserve and share the history and culture of the neighborhoods in western San Francisco. Become a member today to support their efforts – you get a quarterly newsletter, special guided history walks, and other great historical information.
Sarah B.