Last Saturday, I headed to the Argonne Community Garden for a garden party that was hosted by the Community Living Campaign, whose Seeds of Hope campaign is partnering with Community Gardens to reach out to seniors or disabled residents living nearby who may be isolated or lonely.
The Argonne Community Garden, located on 16th Avenue between Cabrillo and Fulton, started in 1975 when the San Francisco Unified School District issued a permit to use vacant land surrounding the Argonne Children's Center for a garden.
Today it is the only community garden in the Richmond district where as many as fifty families maintain plots to grow flowers, vegetables and plants for the community.
While the garden party socialized among themselves and with special visitor Supervisor Eric Mar, I wandered the gardens for the first time, firing off photos. The garden is large, spanning an L-shaped piece of property that wraps around the Argonne Children's Center next door.
Every plot in the garden has its own personality. Some are well manicured, others look more wild. And some plots feel like miniature gardens all their own.
Small statues are nestled among the flowers and vegetables, and a pod greenhouse overlooks the grounds. I was amazed at the variety of greenery – leafy vegetables, sturdy succulents, beautiful spring flowers, strawberries, artichokes, and blooming apple trees just to name a few.
The garden is open to members of the community with plot fees running $35 per year. Garden members are required to reasonably maintain their plots (at least monthly). If they don't, their plots may be relinquished.
Membership includes access to the tool shed and greenhouse, as well as a healthy supply of manure and water.
For more information, visit the Argonne Community Garden website.
Sarah B.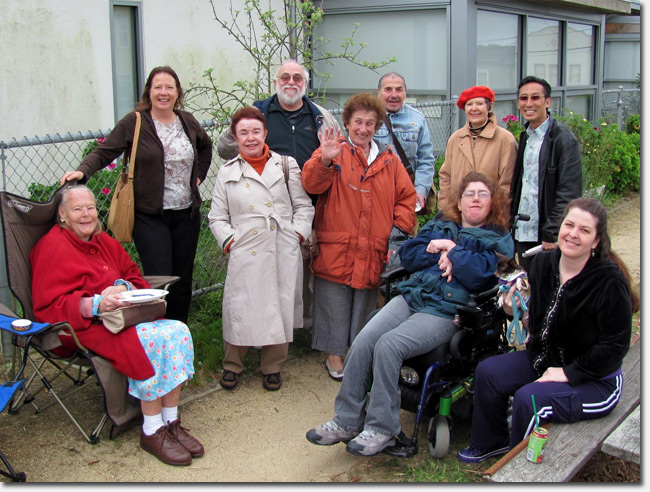 Attendees of the Community Living Campaign's Seeds of Hope party at the Argonne Community Garden.
Supervisor Eric Mar in the back, far right. Photo courtesy of Marie Jobling, CLC.