The February edition of the Western Neighborhoods Project newsletter included a great cover story on how the Richmond District was named. Written by WNP historian Woody LaBounty, the article does a great job of tying together the man behind the name, George Turner Marsh, and his enduring stamp on the northwest corner of San Francisco.
The name of "Richmond District" has been in use for some 125 years. But it was only in early 2009, with the help of local historian John Freeman and Supervisor Eric Mar, that the name became official again.
On March 3, 2009, the Board of Supervisors passed ordinance 36-09 to designate the neighborhood bounded by Arguello Boulevard, Ocean Beach, Lake Street, and Fulton Street, the Richmond District. The 2009 ordinance permanently reversed one passed in 1917 which had named the area the "Park Presidio District".
The Park Presidio moniker never really stuck. Even the local paper stayed with their "Richmond Banner" masthead. By the 1930s, everyone was back to calling it the Richmond District.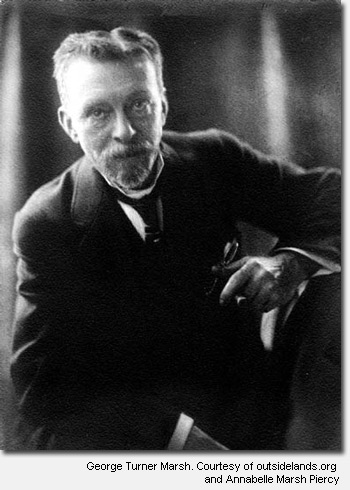 The original name for the neighborhood goes back to an Australian immigrant named George Turner Marsh. During his family's move from Australia to San Francisco in 1872, they made a stop in Japan. George was fascinated with Japanese culture and after begging his family to let him stay in Yokohama, "his father found the boy a position at a tea import/export firm and auction house, and George began his life in business."
Four years later, George moved to San Francisco to rejoin his family. He had already amassed quiet a collection of Japanese antiques and art, so with his father's help, "he opened his own store in the Palace Hotel at 625 Market Street, "G.T. Marsh and Company: Japanese Art Repository". It was likely the first Asian-art gallery in the United States.
A bit later, in 1880, George Turner Marsh married and built a large home in what was then the sparsely settled Western end of San Francisco, also known as the outside lands.
The home and estate Marsh built on the southeast corner of 12th Avenue and Clement Street was considerably different than most of the humble houses in the area. The residence was large and elegant, and on the land around it Marsh installed a garden and ornamental stream, orchard, carriage house, stables, quarters for servants, and chicken pens.
See a photo of George Turner Marsh's home
Commuting between the outside lands and the Palace Hotel was no small feat. In one of my favorite parts of the article, Woody describes Marsh's unique solution to help bridge the distance:
Marsh raised carrier pigeons, and would always carry a couple with him when he rode on horseback to work downtown. In the late afternoon he would send a bird home with a message for his wife about when he'd be home, and if he planned to bring guests for dinner. In one family story, Marsh even sent a vial of medicine to a doctor by carrier pigeon to save one of his children stricken by diphtheria.
As the district became more populated, there was a move in 1884 to decide on an official name. Outside lands was no longer appropriate, as evidenced by this note in a March 1884 issue of the San Francisco Bulletin:
"…the section noted is gradually being built up by tasty one and two-story structures, occupied by families whose heads are mostly identified with down-town business firms, and whose interests, personal or otherwise, can hardly be classed as outside in any sense."
George Turner Marsh was one of those very business men, and had named his home "Richmond House" after his home suburb of Richmond in Australia. LaBounty writes, "His prosperity and respectability must have seemed a model for the face of the growing neighborhood, because after various names were suggested, the property owners selected Richmond as their choice of name."
The city made the Richmond District name official by passing ordinance 2309 in 1890, "obliterating the name 'Outside Lands' from the official map" and designating the area the Richmond District."
I encourage you to read Woody's full article, Naming the Richmond District: George Turner Marsh and the Birth of a Neighborhood" on outsidelands.org to learn more about Marsh's life, his pioneering retail store, and to see a photo of his original Richmond District home at Clement and 12th Avenue.
Outsidelands.org is a website belonging to the Western Neighborhoods Project, which is a nonprofit organization formed in 1999 to preserve and share the history and culture of the neighborhoods in western San Francisco. Become a member today to support their efforts – you get a quarterly newsletter, special guided history walks, and other great historical information.
Special thanks to Woody LaBounty for authoring and sharing this excellent article.
Sarah B.