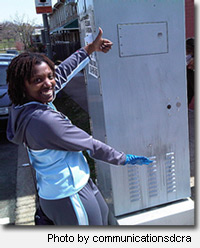 Join the San Francisco Department of Public Works and students of George Washington High School for a community cleanup on Saturday.
Volunteers will help clean up school campuses, plant trees, work on greening projects, remove weeds, paint out graffiti, pick up litter right here in the Richmond District.
To participate, meet at the 30th Avenue and Anza entrance of George Washington High School at 9am. The cleanup lasts until 12noon.
For more information, call 641-2600 or email volunteer@sfdpw.org.
Sarah B.