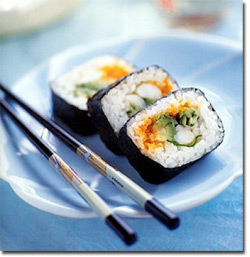 In today's Chronicle, columnist C.W. Nevius leaves us hanging with a less than complete description about a "sensational sushi place out in the Richmond that has devoted customers waiting outside the door for as long as an hour."
A couple of caveats: incredibly small; a strict list of rules ranging from "No complaining" to "No fork, no Coke"; and not open on weekends.
One more thing – I can't give you the name. First, because it doesn't appear to have a name on the front. And second, when I asked if I could mention them in The Chronicle, I was given an emphatic one-word answer – "No!"
So, RichmondSFBlog readers, where is this sensational, secret spot?
Sarah B.
P.S. I really don't know – I'm asking you guys! Someone emailed me with this: "I *think* he's talking about the place on Balboa btwn 6th and 7th." Could this be the place?
P.P.S. – It is indeed Tekka at 537 Balboa. SFAppeal has a good shot of the rules sign in the window. Gotta wonder what that third rule is that has tape over it…