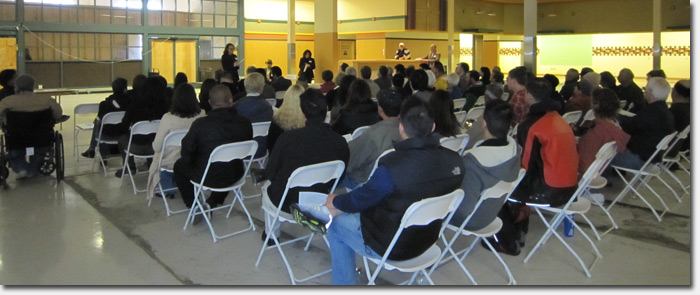 On Thursday night, representatives from CVS Pharmacy and their developer, Landmark Retail Group, held a public meeting at 3132 Clement to discuss their upcoming tenancy and get feedback from the roughly 60 residents that attended.
The 36,500 square foot building has been unoccupied since 2006, when grocery chain Albertson's abruptly vacated the premises. The lease has since been taken over by another grocery chain, Fresh & Easy Neighborhood Market, and it was expected they would move in last year.
However due to the souring economy, their expansion plans for Northern California have slowed. Supervisor Mar spoke briefly at the meeting, saying he had met recently with Fresh & Easy and that they are still "totally committed to coming to Northern California."
Fresh & Easy holds a 25 year lease on the entire building at 3123 Clement Street; CVS will sublet 40% of it (14,271 square feet). Barring any issues with the city and the Planning Commission, they plan to open their doors in the first half of 2011 with operating hours from 7am until 10pm daily. They will hire at least 25 new employees to start.
The interior space will be divided down the middle, with CVS occupying the southern side of the building and Fresh & Easy occupying the north end once they are ready to move in. CVS is already engaged in a co-tenancy with Fresh & Easy in many of their other locations.
The majority of remodeling for CVS will occur inside the building; only new signage will be placed on the exterior. The building itself is relatively new with modern amenities like a full-service loading dock and rooftop parking, so there is not much that has to be done to the physical plant.
CVS is full service pharmacy that also offers household goods, photo services, limited grocery, stationary, cards – all the things you would see at a typical retail pharmacy like Walgreens. There is also space for a potential "minute clinic" which could offer basic care and advice from a physician's assistant. CVS also said if needed, they will arrange for home deliveries of pharmacy items within the immediate area of the store.
Like most full service pharmacy retailers, CVS plans to sell alcohol which caused concern among some of the residents. One neighbor worried about the sale of alcohol in such close proximity to the park, while another reminded CVS that George Washington High School and a couple of middle schools are close by.
The CVS representative responded that they have been selling alcohol nationwide for over 50 years, and as a result, have many policies in place and extensive training for their employees on how to handle liquor sales. CVS cashiers are required to enter a date of birth at checkout, so everyone, regardless of age, gets carded when purchasing alcohol. In addition, CVS does not sell fortified liquors or individual cans or bottles. To prevent shoplifting, every alcoholic beverage is also fitted with security capping.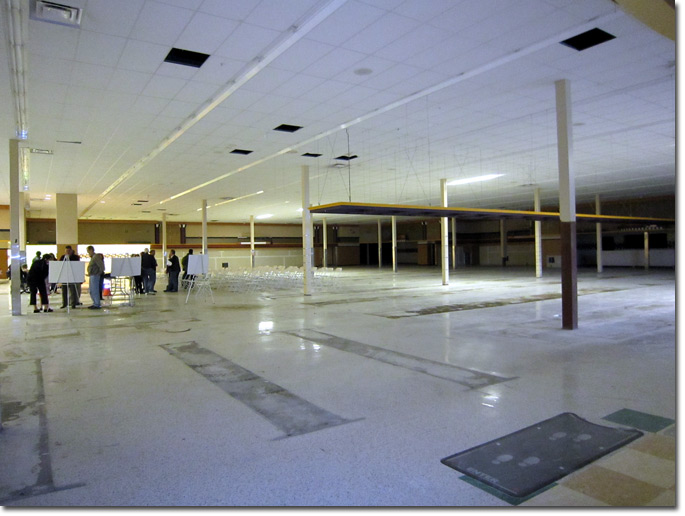 The empty interior of 3132 Clement Street
CVS informed the meeting that they plan to request the right to operate up to 24 hours a day and would do so if the demand arises to serve the community. Some residents were not comfortable with this and questioned the need for 24 hour operation and what plans were in place for round the clock security.
Particularly vocal was the President of the Lincoln Park Neighborhood Association, who said his group was very against any retailer operating 24 hours a day in the neighborhood. He then informed the CVS representatives that they shouldn't even bother pursuing 24 hour operation from the Planning Commission because "we'll fight you on that…and we'll win."
Given Albertson's near overnight abandonment of 3132 Clement in 2006 ("they left us out to dry"), one neighbor asked CVS what they planned to do in the event Fresh & Easy, the lease holder, changed their plans to open in the other half of the building.
CVS responded that though they are subletting their space from Fresh & Easy, they are entitled to take on the lease of the entire building if needed and pursue another co-tenant. The representative added that they are "very optimistic" about the business opportunity for CVS and that they are in for the long haul.
Overall, residents at the meeting were enthusiastic about CVS moving into the building, and many seemed relieved to hear that Fresh & Easy still plans to do the same. One resident said he was looking forward to having a pharmacy available for the elderly population in the area.
Another resident said she was glad to see some competition for Walgreens and also hoped that CVS would not insult its shoppers by putting some of its most basic items like teeth whitener and pain relief under lock and key, as some Walgreens do in the neighborhood.
The CVS representatives plan to hold one or two more community meetings to address concerns about operating hours and security. But first, they'll file requests for conditional use permits, followed by a hearing with the Planning Commission which is also open to the public.
While CVS moves forward with their development, we should also hear more news soon from Fresh & Easy. At the meeting, Supervisor Mar said that in a couple of weeks, Fresh & Easy will be "making some important announcements." Let's hope it's to say they'll be moving in along with CVS, or at least very soon after.
Sarah B.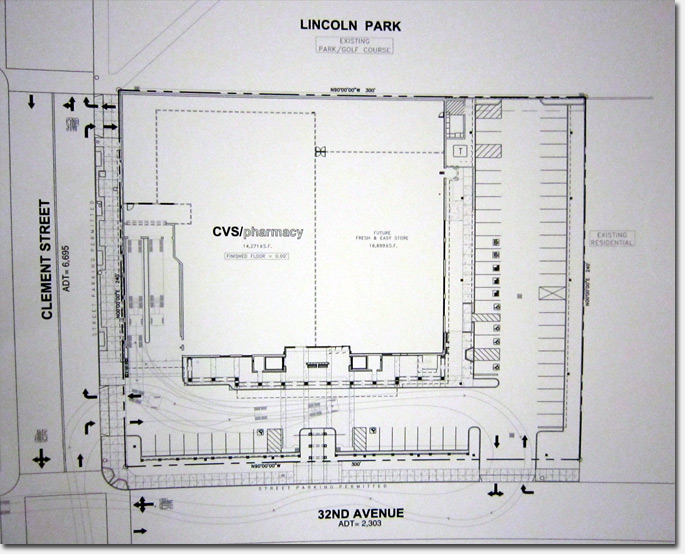 Plans showing the subdivision between CVS and Fresh & Easy. Click to enlarge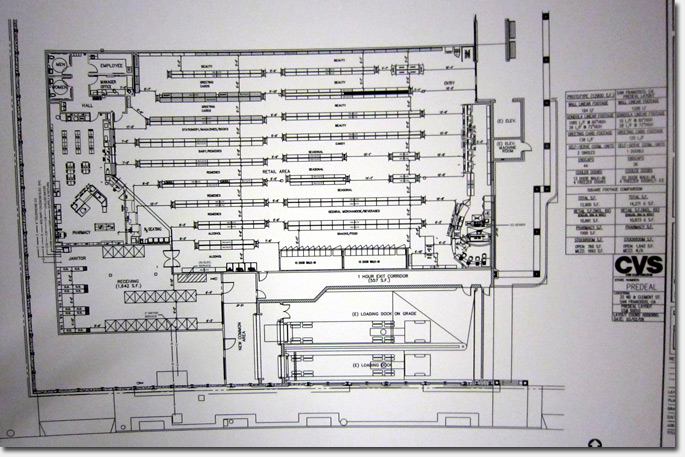 Plans showing the layout of the CVS store. Click to enlarge