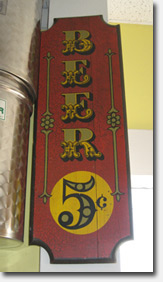 Next Wednesday night at 7pm, the Bazaar Cafe (5927 California) will host another in their series of free "How-To" nights. This time it's how to make beer in your basement. Or your kitchen. Or your family room. Anywhere, really.
Home brewer Caleb Shaffer, a 7-year veteran, will present an overview of the extract beer brewing process, explaining the techniques, equipment, and ingredients used at each step along the way for your first batch of beer.
Why attend? Because when you learn to make your own beer you save money and get invited to more parties! Unless your beer is really bad…
The good news is that if you do find that hops and barley are in your future, the Richmond District has its own, neverending flow of brewery supplies thanks to Brewcraft at 1555 Clement Street (at 17th Avenue).
Sarah B.