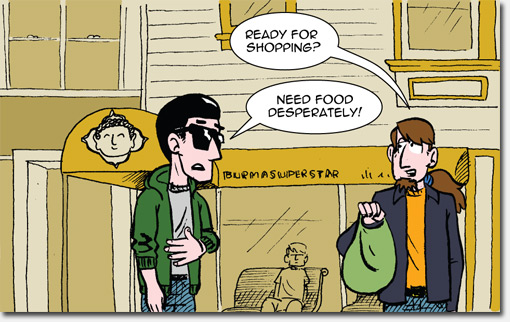 Mike Moss has lived in the Outer Richmond for the past 6 years, but it's his work experience around the city at retail stores that provides fodder for his comic, "Quitting Time".
Mike's just released a compilation of his "Quitting Time" comics which he says is the "perfect addition to your library or a gift for anyone who's ever had to do time in retail."
Ahh, retail. When I was in high school I worked at Lombardi's Sports when it was on the corner of Clement Street and 3rd Avenue (now City Kids). The Lombardi brothers paid me minimum wage and I learned more about selling athletic shoes than I cared to (though today I can tell from your soles whether you're a pronator or a suppenator – a very handy useless skill!).
Working retail meant I got my fair share of difficult customers, low pay and a bad case of clenched jaw trying to bite my tongue with customers and my bosses. Mike's "Quitting Time" comic collection is a humurous look at those working in the retail trenches.

Mike tells me "Quitting Time" was originally two comics. Time Out – a comic about life as a young single dad and Why I Hate Retail. Eventually he merged the two and it's evolved into a slice-of-life cartoon with a retail setting. "Like the television series Chuck where they work in the Buy More," says Mike.
Some of Mike's favorite retails spots in the Richmond? Green Apple Books ("I used to work for the Strand Bookstore in High School in NYC so I have a special place in my heart for indy/used bookstores"), Gary's on Geary ("he has great stuff and I like that he's a bit cranky"), and the Balboa Theater.
"Quitting Time Volume 1" is now available for sale exclusively at fine retailers everywhere, which is code for "Mike is reproducing the book at OfficeMax and binding it himself". You can order the book off his website; $11 for an unsigned copy or $16 for a special signed Artists' Edition. Mike's website is also chock full of past "Quitting Time" comics.
And just for RichmondSFBlog readers, Mike drew a special Richmond comic of Quitting Time which is at the top of this post. Thanks, Mike!
Sarah B.