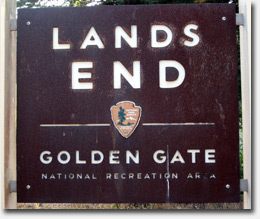 As a result of a $5 million grant from the Goldman Fund, preparations are being made for improvements at the Land's End recreation area.
Among the planned improvements are the construction of a new visitor facility, enhancements to the USS San Francisco Memorial parking lot and ongoing stewardship of the recreation area.
The National Park Service is holding a meeting on Wednesday, July 21 at 6pm to get feedback from the public on plans for the new visitor center. The meeting will be held at the Cliff House restaurant.
Seating is limited so if you'd like to attend, please RSVP by Wednesday, July 14 by writing trailsforever@parksconservancy.org or call (415) 561-3054 for more information.
Sarah B.