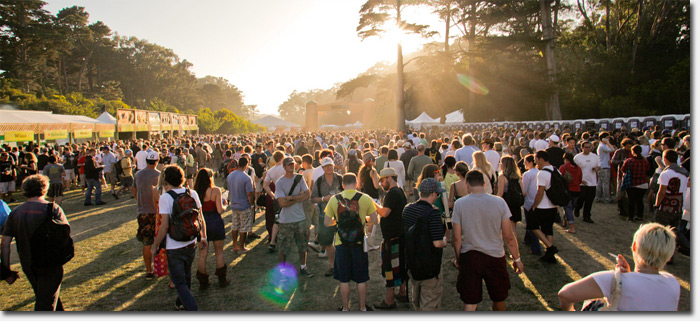 Outside Lands 2009. Photo by tomtomkinson
Outside Lands returns for its third appearance at Golden Gate Park this weekend. Unlike previous years, the festival will only run on Saturday (11am to 10pm) and Sunday (11am to 9:20pm).
Headliners include Kings of Leon, Furthr featuring Bob Weir and Phil Lesh of the Grateful Dead, Gogol Bordello, Al Green, and dozens more across five stages at the Polo Fields and Speedway Meadow. See the full schedule or check out the festival map.
To kick things off, the Academy of Sciences is getting in the spirit for the festival, hosting "Parklife", an Outside Lands/GGP themed Nightlife Thursday night from 6pm until 10pm. Live music from Dawes outside, DJ Omar spinning inside, plus activities from park mainstays like Rec & Park, the Conservatory of Flowers, Botanical Garden, Sharon Arts Studio, GGP Golf Course, and even the Archery Fields (William Tell re-enactment anyone?). Nightlife events at the Academy are 21 and over, tickets are $12 or $10 for Academy members. Tickets & info
Hype has been pretty low-key for this year's festival, so if you've been on the fence about going to Outside Lands, I don't think you'll have trouble getting tickets. You can buy them free of service charges at the box office starting today at 12noon, or order them online.
The box office is located at the main entrance to Lindley Meadow (intersection of 30th avenue and JFK Drive). A single day ticket is $75, 2-day tickets are $140. VIP tickets, which include exclusive viewing areas, food, beverage and special restrooms go for $225 and $395.
Outside Lands is primarily about the music but there's also some tasty food and wine vendors lined up. You'll even find Richmond District faves Namu ("We are gonna bring the party into your mouth, and everyone is invited." Uhh, ok.) and Gordo Taqueria on site.
If you are heading to the festival and you have a smartphone, don't forget to install the Outside Lands mobile app. It will put a helpful map and schedule in your pocket. You can even customize your Outside Lands itinerary in advance so you'll know when to be at which stage for your favorite acts.
And like any outdoor festival, some things are ok to bring (blankets, soft coolers, sealed water bottles, soft-side chairs) and others are not (weapons, tents, pets, laser pointers, umbrellas, glass) so check the do's and don'ts list before you go.
If you're biking to the festival, San Francisco Bicycle Coalition will be providing complimentary Valet Bike Parking service. Yay!
For those of you who frequent Golden Gate Park, keep in mind that much of the west end of the park will be fenced off for the festival, and many car entrances will be off-limits. Here's a map showing the park entrances that will be closed to vehicles from Friday, August 13th at 8pm through Sunday, August 15th at 11pm:

There will also be extensive fencing up around the festival area, so be sure to check their Neighborhood 311 page before you head out to the park to find out what trails and walkways are affected.
The festival also has a community hotline: 752-2098 which can be used for any complaints or parking issues that neighbors encounter. It's staffed from 10am to 11pm on the festival days.
The festival will have 2 dedicated tow trucks and 1 Parking Control Officer on each side of the Park to respond to blocked driveways or any other parking issues related to the event. You can also call parking enforcement at 553-1200 for assistance.
Are you headed to the festival this weekend? If so, have a great time! Here's hoping the dreary fog takes the weekend off.
Sarah B.