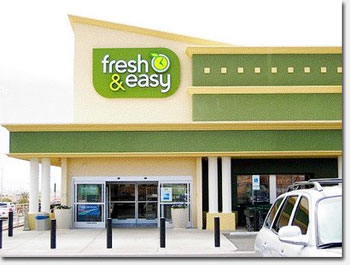 I spoke with John Gavin today, a local consultant who is providing neighborhood outreach services on behalf of Fresh & Easy Neighborhood Markets.
"Fresh & Easy is still committed to moving into the location in the Richmond District," Gavin said, referring to the pending co-tenancy with CVS Pharmacy at 3132 Clement, a former Albertson's that has sat empty since 2006.
However it's unlikely they'll open in 2011. The grocery chain is focused on opening seven new locations within the Bay Area, including one in San Francisco's Hunter's Point / Bayview neighborhood.
Gavin said Fresh & Easy Market felt the Hunter's Point location took precedence over the Richmond District store since there's been a longstanding need in the community for a major grocery retailer.
For the near future, Fresh & Easy will focus on opening their new Bay Area locations and watch their performance closely. Gavin said it's not possible right now to put a timeline on when the market would open its Richmond District store.
Last week, Gavin and a representative from the Fresh & Easy corporate office in Southern California also met with representatives from the Lincoln Park Homeowner's Association to discuss the project and reaffirm the grocer's commitment to the outer Richmond District location.
Regardless of when Fresh & Easy makes their decision, CVS is moving forward with their plans to occupy half of the space at 3132 Clement. They are expected to begin the permit process with the Planning Department in the next couple of months. But no definitive word yet on when they will open their doors.
Sarah B.