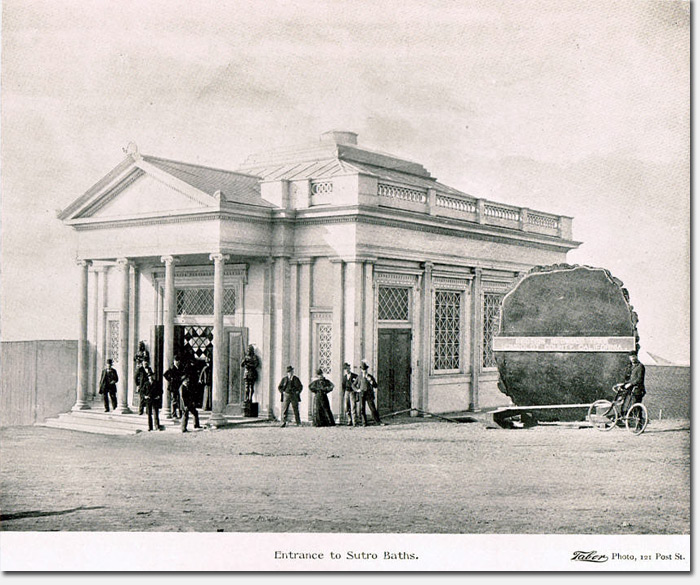 That's a cross section of a Humboldt County redwood tree on the right.

Our friends over at Inside Outside Lands posted about some new Sutro Baths photos that were recently added to the Cliff House Project website. I've lived in the city my whole life but not long enough to have experienced the baths. So I find them endlessly fascinating.
This latest group of photos are from a booklet shot by reknowned local photographer Isaiah Taber and include some rare views of the tanks, stands, museum and promenades in the Baths. You really get a feel for how large the place was.
The photos and booklet aren't dated but according to the Wikipedia page on Taber, "the 1906 San Francisco earthquake destroyed his San Francisco studio, gallery, and negative collection, ending his photographic career." So these were probably taken at the turn of the century (Sutro Baths opened in 1896).
UPDATE: Commenter John Martini confirms that they were taken sometime during 1894-1895 ("One major clue is the "Greek Temple" entrance shown in the first photo. By 1896 this entry had been altered…"). Thanks John!
I've included a couple more below (is that Adolph Sutro himself in the last one?), but be sure to see all the photos from this booklet. Really, the entire Cliff House Project site is fantastic, so pour yourself a cup of coffee and start clicking through local history!
Sarah B.