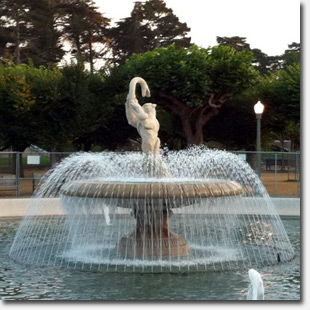 For the first time in 6 years, the fountains in Golden Gate Park's Music Concourse are on and flowing.
This Friday at 9:30am, SF Rec & Park will officially celebrate the makeover of the historic space between the de Young and the Academy of Sciences.
The renovation of the concourse has taken several years and included rejuventating the bandshell with a new roof and restorative touches. They also added new fixtures, furnishings, bike racks, and drinking fountains throughout the concourse, and redid many of the pedestrian paths.
The price tag was substantial – $12 million when it's all said and done. Roughly $8 million of the funding came from the state's Prop 40 fund, another $400,000 from Open Space reserves, and $75,000 via a grant from Partners in Preservation. For you accountants out there, the SF Examiner has a full rundown of what cost what (see the end of the article).
The concourse was first built for the California Midwinter Exposition of 1894, for which it was the center of the international fair. A mock Eiffel tower stood in the middle with a beacon light, and various large, exhibition halls sat on the edges of the concourse, which was originally designed with the sunken infield. One of the halls was an Egyptian-themed fine arts building that would later house the de Young Museum.
The exposition was a great success, attracting 1.3 million visitors over its 5 month tenure. Check out these videos which offer a great history of Golden Gate Park and vintage photos from the exposition.
You probably won't be able to make it to Friday morning's celebration, but I encourage you to take some time to visit and stroll through the Music Concourse. I especially recommend it at night – the lit up fountains are a pretty sight.
Sarah B.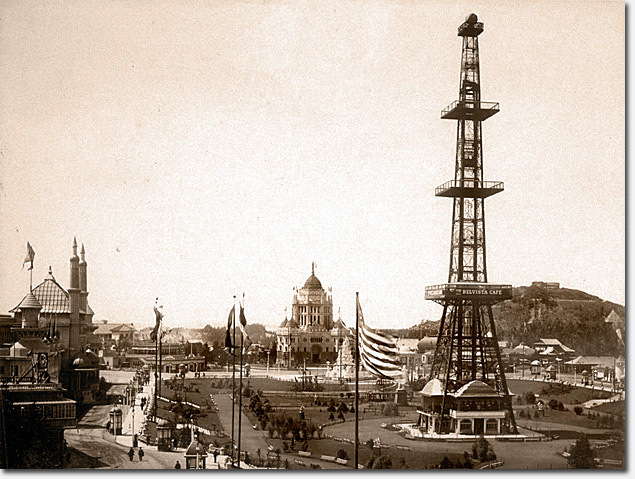 A photo of the concourse from the 1894 Midwinter Exposition. Courtesy of sanfranciscomemories.com.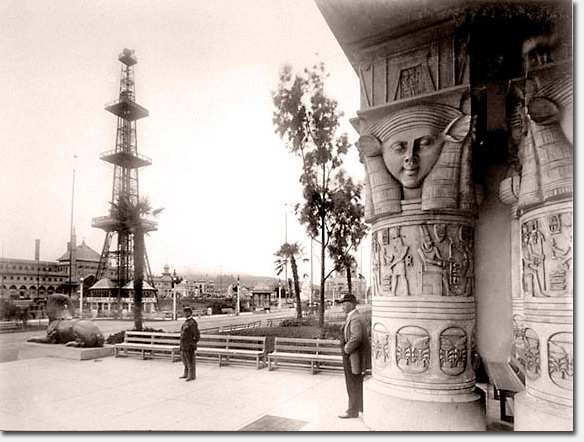 A photo of the concourse from the 1894 Midwinter Exposition with the edge of the
Egyptian exhibition hall in the foreground. That building would later become
the de Young Museum. Courtesy of sanfranciscomemories.com.