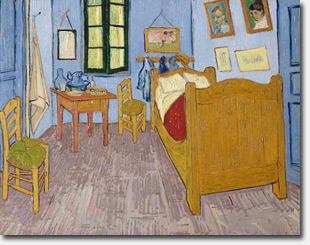 The de Young already wowed me once this year with their Birth of Impressionism exhibition. Now, just a few weeks after closing it, round 2 kicks off this Saturday with Van Gogh, Gauguin, Cézanne, and Beyond: Post-Impressionist Masterpieces from the Musée d'Orsay.
This is the second of two exhibitions from the Musée d'Orsay's permanent collection and the de Young is the only museum in North America to host this second show.
This time around, the exhibition focuses on the artists of the late and post-Impressionist periods like Claude Monet and Pierre-Auguste Renoir, as well as works representing the individualist styles of the early modern masters, including Vincent van Gogh, Henri de Toulouse-Lautrec, Paul Gauguin, Nabis Pierre Bonnard and Édouard Vuillard.
Van Gogh is the real star of the exhibition which features three of his most famous paintings – Starry Night over the Rhone, a haunting Portrait of the Artist, and the colorful Bedroom at Arles.
If you're a reader of this blog, then you have a chance to win a pair of VIP passes to the exhibition (anytime entry). I'm giving away three pairs of tickets this time around.
For a chance to win, just send in the answer to the question below via the Contact Us page. I'll draw the winners randomly from the correct entries. Entries due by 5pm this Friday, Sept. 24.
Q: Van Gogh tried painting his Bedroom at Arles more than once. a) How many versions of the painting are there and b) which one is on display at the de Young?
The show opens this Saturday and runs until January 18, 2011. If you're a member of the de Young Museum, you can reserve free tickets online. Regular tickets can be purchased online or at the de Young box office. Based on the large crowds they saw for the first exhibition, be sure to get your tickets in advance!
Sarah B.