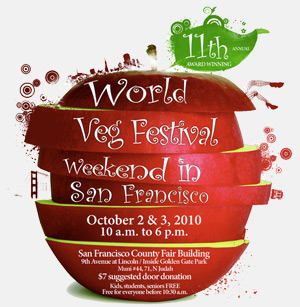 Will you only eat something that never had parents? Are you thinking about saying bye-bye-bye to meat? Curious about the vegetarian lifestyle? Then you won't want to miss the 11th annual World Veg Festival being held at the SF County Fair Building in Golden Gate Park this Saturday and Sunday.
The festival, organized by the San Francisco Vegetarian Society, features informative lectures by the movers and shakers of the vegetarian world, creative vegetarian cooking demos, international cuisine to sample or buy, vegan friendly merchandise, Children's Corner play area, Organic Athletes, Vegan Speed Dating, Raging Grannies and a variety of world entertainment. See the full festival schedule
They even got a proclamation from the SF Board of Supervisors last year courtesy of our own District 1 Supe Eric Mar. Check it out below.
The festival runs Saturday and Sunday from 10am to 6pm. Come before 10:30am on either day and admission is free; it's also free for students, seniors and kids all day long. For others, they suggest a donation of $7 at the door.
On both nights at 6:45pm, they also offer a vegan dinner (cooked or raw) for $25 per person.
Got a great vegetarian recipe or tip you want to share? Leave a comment to let us know.
Sarah B.