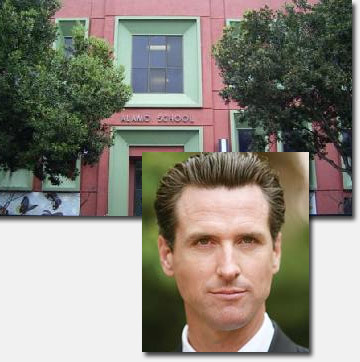 Move over Justin Bieber and Zac Efron, our own Mayor owns the hearts of SF schoolkids.
Did you feel the electricity this morning? Mayor Gavin Newsom was in the Richmond District at Alamo Elementary School (250 23rd Avenue) today for the statewide "Shakeout" earthquake drill.
After ducking under a desk during the drill and communicating the importance of earthquake safety and preparedness ("These drills become important because they're not an abstract question." Really, he said THAT to elementary school kids??), Newsom headed out into the schoolyard during recess.
That's when pandemonium, or "Newsomania", broke out.
According to the Examiner, he was mobbed by kids wanting autographs. What does a celebrity mayor do in such a situation? Tell the kids to line up of course. 100 or so of them did just that, waiting their turn for the mayor's signature.
Newsom scribbled his names on bits of paper for the students and when he ran out, he started signing hands and t-shirts. Do you think the kids refused to wash their hands for the rest of the day?
Hold onto those autographs, kids. He may be Lieutenant Governor soon. Too bad for him that kids can't vote.
Sarah B.