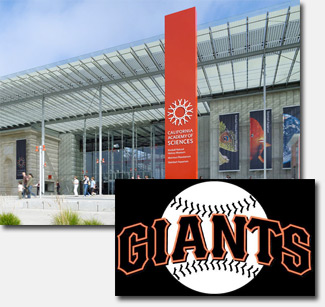 If you've been to Golden Gate Park's music concourse in the last 24 hours, you probably wondered why there are barricades all around it. One friend said she got barricaded in Monday night while working out in the Concourse and had to climb back out!
So what IS going on? An anonymous tipster just informed me that there's a massive World Series party going on at the California Academy of Sciences tonight.
Before you get excited, it's not for the every-fan. It's for VIPs, politicians etc. We're told that even Academy employees can't get into the shindig. Ooh la la. The Academy is also bathed in orange lights.
The party runs from 6pm until 11pm tonight and the Music Concourse will also be hosting some entertainment. No word on whether or not any Giants players will make an appearance.
According to the SFMTA website, even the 44 O-Shaughnessy will have to go around the party.
UPDATE (3:47pm): The Richmond District Police Station just sent out an advisory about fireworks at the event:
Major League Baseball and the San Francisco Giants will be hosting a brief fireworks display in Golden Gate Park tonight. The fireworks presentation will take place sometime between 10:15 pm and 10:25 pm. The display is in connection with a private welcome event hosted by the San Francisco Giants and Major League Baseball for out of town visitors and other guests. Access to the music concourse and other areas of Golden Gate Park will be limited for the evening for safety reasons.
Party hardy Boys of Summer but be sure to get good sleep tonight. We want a "W" in Game 1!! 🙂
Sarah B.