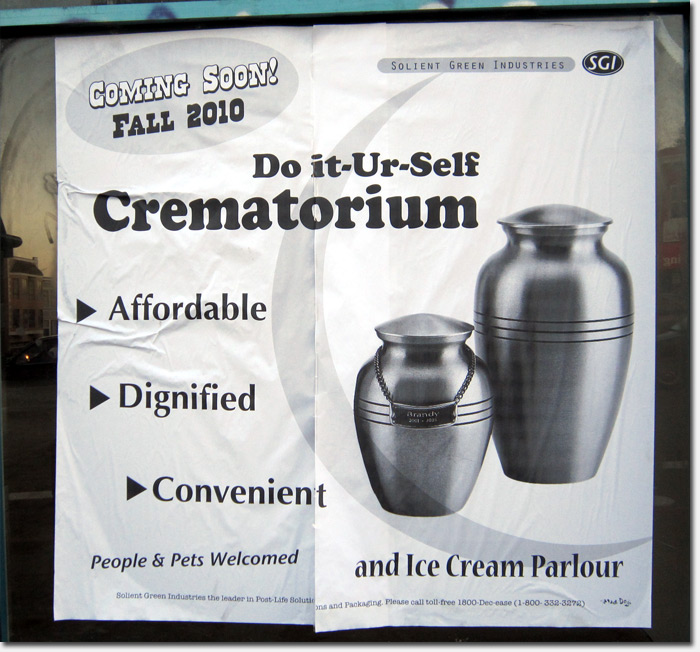 I snapped this pic of a sign that was posted outside the former Kragen Auto Parts at Geary and 25th Avenue. Thanks to RichmondSFBlog reader Amy for the tip.
If you believe what you read, the empty retail space will soon be transformed into a "do-it-yourself crematorium" that is affordable, dignified and convenient (I'll say – you can get an oil change right across the street too!). Pictured is an urn with a "Brandy 2001-2005" nameplate dangling on it – presumably a name for a now deceased Fluffy or Fido.
Oh but the sign says it will be a crematorium for pets and people. This just gets better and better.
The really laughable part is the "and Ice Cream Parlour" tag in the lower right of the poster. Wouldn't that make for a creepy combination? "Do I have time for a mint chip on a sugar cone while my late Uncle Cyrus gets blasted?"
I called the 800 number in the corner which is, not surprisingly, the number for an unsuspecting Fairmont Hot Springs Resort in Montana, which actually looks quite nice. When I spoke to the receptionist there she had no idea what Solient Green Industries was and had no knowledge of a crematorium opening in San Francisco.
Another reader, Danny, tells me the sign has been up for at least a week. I wonder if Ritchie Commercial real estate is aware of their merry pranksters?
The only clue to their identity is the signature in the lower right corner of the poster: "Mad Dog". Woof.
Sarah B.