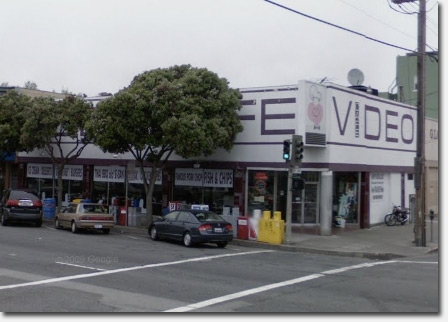 Several people have written in today asking why the Video Cafe, a Richmond District institution for the last 25 years, is now closed and cleaned out.
From what I've been told, the cafe was having financial problems for the last year. Business was slow and they were under the gun to come up to code for the American Disabilities Act (ADA) in areas like the restrooms, the front door and front sidewalk.
The cafe's proprietor is also the building owner. She bought the building about 5 years ago after renting for twenty. As a result, the costs to meet ADA guidelines would have come from the cafe's coffers, which were probably not very big to begin with.
I contacted a friend who was a longtime customer of the cafe, affectionately known to regulars as "Big Heart". For over 15 years, he met friends every morning for coffee and breakfast at the cafe.
He told me that the atmosphere in the cafe has been rather gloomy the last few months, as staff and the owner anticipated having to close.
I do not have any information about what will happen to the corner retail space. If I hear anything more, I'll be sure to let you know.
It's very sad to see this cafe close. As one reader put it, "The Richmond loves its Video Cafe" so I am sure there are many who will be saddened by this news. It was one of those quirky, anachronistic spots that seemed to be caught in an endearing time warp. Plus the combo cafe and video rental counter was uniquely…different.
RIP Video Cafe – you will be missed.
Sarah B.