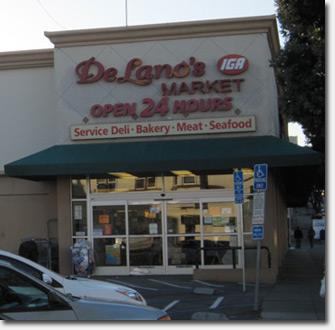 Fresh & Easy Buzz, an independent blog that follows the grocery industry, has some additional information on the closing of the DeLano's market at 27th & Geary.
The site spoke with Joseph Neri, the attorney for Delano Retail Partners LLC, which is the corporate entity for the DeLano's markets. He told them that DeLano's is closing five of its six Bay Area locations by December 17.
As discussed in our earlier post, DeLano's financial troubles are to blame for the closure:
Last week Ralphs filed lawsuits in San Francisco and Marin County Superior Courts against DeLano Retail Partners LLC for failure to pay rent on the five units, according to Neri. The amount Ralphs is asking the courts to order DeLano Retail Partners LLC to pay in back rent is well over $1 million, according to court records.
DeLano Retail Partners doesn't have the cash to pay the back rent, or for that matter to keep current going forward. Therefore Harley DeLano and his son Dennis decided to close the five stores.
The article also mentions that Mollie Stone's Market's may be interested in one or more of the DeLano IGA Markets stores:
First, because the DeLano's are closing the five stores by December 17 due to eviction and related financial difficulties, Mollie Stone's won't be acquiring any of the markets directly from the grocer. However, according to our information, Mollie Stones is interested in at least two or three of the sites, which once vacant will be back on the market, since Ralphs' has no plans to locate stores at the locations.
It's not known if Mollie Stone's is interested in the outer Richmond location. The opening of Fresh & Easy in early 2011 just a few blocks away at 32nd & Clement probably makes the former DeLano's location less appealing to another grocer; the competition might be too much.
Sarah B.