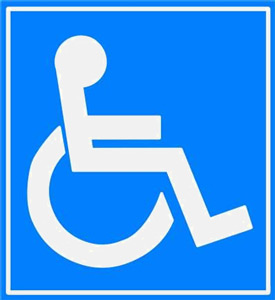 Hats off to KGO Radio's Ronn Owens who did his best to confront one of the most loathed lawyers in San Francisco on his show yesterday, Thomas Frankovich.
Owens lives in the Richmond District and was concerned after seeing stories here on the blog and in the Richmond Review about businesses closing due to Americans with Disabilities Act (ADA) lawsuits being brought against them. Frankovich is the attorney behind a slew of ADA lawsuits in the city.
Many of the businesses being sued are right here in the Richmond District. We've already seen two close as a result – "Big Heart" Video Cafe on Geary and Thidwick Books on Clement Street.
The latest to close is Pot de Pho Noodle House at 3300 Geary after being hit with an ADA lawsuit.
And it's safe to say there's no end in sight – a lawsuit against Taishan Cafe on Clement was just filed THREE days ago (see list below).
Owens spoke with callers during the show who were, to say the least, vehement in their dislike for Frankovich, calling him a charlatan and a parasite. You could tell Frankovich had heard it all before; he was hardly bothered by the disdain for his practices. Listen to Frankovich being interviewed on Ronn Owen's show:
[audio:http://richmondsfblog.com/dloads/kgo_frankovich.mp3]
One of Frankovich's partners in these lawsuits is Craig Yates, who is the disabled plaintiff in the cases (Yates also partners with other lawyers to file suits). Yates identifies a business that is not in compliance, and Frankovich files suit. It could be a business that has a 4 inch step at their threshold that prevents a wheelchair from entering, or a restaurant that does not have accessible restrooms.
A quick search of dockets under Craig Yates on justia.com yields 183 results. Not all of them belong to THIS Craig Yates, but there are dozens of ADA lawsuits with him as plaintiff.
Let's have a look at the suits just here in the Richmond District with Yates as the plaintiff; I'm sure a few of your favorite neighborhood spots are on the list:
1) Taishan Cafe, 1125 Clement Street | 1/11/2011 (info)
2) Building on southwest corner of Clement & Arguello including Village Pizzeria, Thidwick Books (CLOSED), Period George | 11/29/2010 (Yee Mei Cheung & Family et al) info)
3) Mayflower Seafood Restaurant, 6255 Geary Blvd | 10/26/2010 (info)
4) Prime Rib Shabu, 308 5th Avenue | 9/15/2010 (info)
5) Gordo's Taqueria #1, 2252 Clement Street |6/4/2010 (info)
6) Le Soleil Vietnamese Restaurant, 133 Clement Street | 5/19/2010 (info)
7) Pho Clement Restaurant, 239 Clement Street | 4/2/2010 (info)
8 ) Pot de Pho Noodle House, 3300 Geary – CLOSED | 2/5/2010 (info)
9) Chiang Mai Thai Cuisine, 5020 Geary | 1/26/2010 (info)
10) Clement Street Restaurants, Inc., 621 Clement | 8/27/2009 (Case dismissed 10/25/2010; info)
11) Superior Palace Seafood Restaurant, 357 25th Avenue | 7/27/2009 (info)
12) Clementine Restaurant, 126 Clement Street | 7/1/2009 (info)
13) Thai Me Up – NOW CLOSED | 10/1/2008 (info)
14) Fune Ya Japanese restaurant, 354 Clement Street | 9/24/2008 (info)
15) Zephyr Cafe, 3643 Balboa Street | 5/2/2008 (info)
16) King of Thai Noodle House #2, 346 Clement Street | 4/8/2008 (info)
16 lawsuits against businesses in the Richmond District alone. And those are just the ones I recognized in the justia.com search results; there are probably others buried under LLC business names.
Unless Yates is trying to kickstart a career as San Francisco's premiere restaurant critic, I think it's clear that he and his lawyers are targeting any businesses that have an ADA violation for a chance at some quick cash. Once a letter is delivered to the business owner alerting them of the violations, some businesses will choose to settle with the disabled complaintant to make the problem go away.
Other businesses avoid settling but have to close their doors for good because neither they, nor their landlords, can afford the upgrades. In the case of Thidwick Books, the owner believed she would lose too much inventory to be financially viable if she made the changes necessary to create room for a wheelchair to maneuver in the store (SF Chronicle).
Yates also seems to like to target ethnic restaurants, most likely because the owners are less versed with the ADA laws and legal system; English may not even be their first language. As KGO's Ronn Owens points out in his interview, many "mom and pop" small businesses don't even have lawyers.
During the interview, Owens read an email from one listener in the inner Sunset who said that he'd seen too many of his favorite restaurants close due to "parasite lawyers like your guest".
Frankovich's response? "I know of none that have gone out of business because of an ADA lawsuit." Don't you love that? That's lawyer speak for go ahead and try to prove that a lawsuit is what closed down the Video Cafe and Pot de Pho Noodle House.
Yates and his attorneys have filed many more ADA lawsuits against businesses in other parts of San Francisco, even the venerable Swensen's Ice Cream Parlor on Hyde and Union. It looks like he's been at it since 2007. According to a recent SF Chronicle article, Yates has hired East Bay attorney Tim Thimesch to handle his cases in the Richmond District.
After hearing Frankovich interviewed on KGO, one Clement Street merchant had this to say about him: "No doubt that this attorney was great at public speaking and still dodged questions, but it doesn't take away the fact that he is greedy."
I have not had a chance to reach out to any of the businesses listed in this article, so I don't know what plans they have for handling the lawsuits. But it's highly likely that many of them will go out of business given the trend we've seen in the last few months.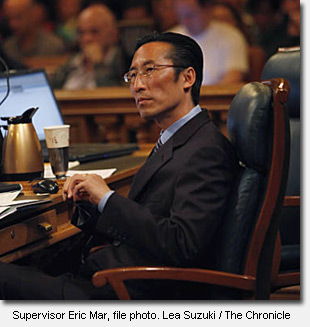 So, what's being done to help our small businesses weather the storm of lawsuits?
Merchant associations are organizing in an effort to educate their members about how to achieve and maintain ADA compliance and if they are sued, how to handle it. Earlier this month, the Noe Valley Merchants Association organized a meeting with the city's Small Business office.
On Thursday, the city announced an upcoming campaign to educate small business owners about about their legal rights and responsibilities with regards to ADA compliance:
At a news conference in an Outer Sunset cafe, Supervisor Carmen Chu was joined by several other supervisors, city officials, disability rights advocates and small business commissioners. Chu said the city was working to devise several methods for reaching business owners. They might include merchant-registration paperwork, payroll tax mailings and building and construction permits.
She also said that small-business loans would be available for disability access renovations through the Opportunity Fund, a local microlender, which has pledged $1 million for businesses needing assistance. (SF Chronicle).
It's a start, but it seems the city, e.g. the Board of Supervisors needs to do more to protect the small businesses from these lawyers and their disabled plaintiffs who are out to make a quick buck, empty storefronts and destroyed businesses be damned.
Supervisor Mar, this seems like a GREAT issue for you to spearhead as a representative for so many small businesses in your district. What are you waiting for?
Sarah B.