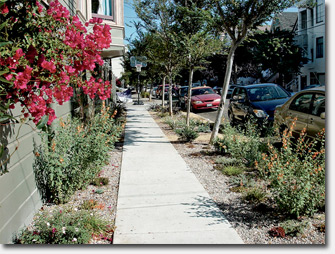 This year, the San Francisco Botanical Garden is kicking off a new program called "Grey 2 Green", designed to teach residents how they can transform their sidewalks into attractive, landscaped areas.
"Less concrete. More jungle." is the program's theme, which is a joint venture between the Botanical Garden and the San Francisco Department of Public Works.
You can learn how to green your sidewalk by attending one of the free Saturday workshops, which begin this Saturday, February 12th. Register here
At the workshop, you'll learn the steps for how to transform your sidewalk into a garden including permitting, designing and maintenance. They'll recommend trees and drought tolerant plants for sun or shade, and help you with design ideas.
The free classes are held Saturday mornings from February until November, 2011, from 9:00 am-10:00pm at the County Fair Building at the San Francisco Botanical Garden. The first one is this Saturday, February 12th.
Visit the Grey 2 Green website for the full list of 2011 workshop dates. You can register online in advance for any of the classes.
Thanks to RichmondSFBlog reader Kim C. for the tip.
Sarah B.