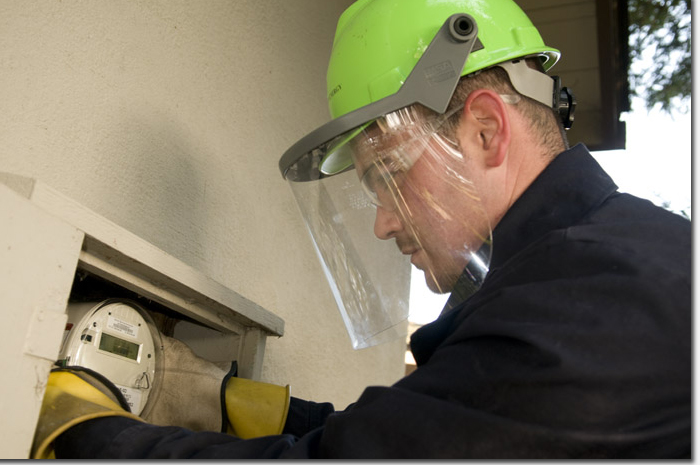 Next week, PG&E will hold three public education seminars about the new SmartMeters they will be installing in the Richmond District, and elsewhere in the city, over the next few months.
The new meters are called "smart" because they can wirelessly communicate gas and electricity usage to PG&E, eliminating the need for the small army of employees that have to manually check meters each month. PG&E can also make that information more easily accessible to customers online, allowing them to monitor and curtail their energy usage. More on how SmartMeters work
According to the PG&E website, the SmartMeter system will be rolled out to all PG&E customers by mid 2012. Installation of each SmartMeter takes about 15 minutes.
Despite the stated benefits, this is one piece of technology that not everyone is jumping for joy about. The SF Examiner reports that "Since PG&E began installing the meters elsewhere in the state, it has received hundreds of complaints about accuracy and the potential impact on health."
The counties of San Francisco and Santa Cruz even tried to halt the installations. But a state regulatory board rejected a petition from San Francisco in late 2010 to halt the arrival of SmartMeters, clearing the way for PG&E to begin installations in the city this year.
The Richmond District will be one of the first neighborhoods to get SmartMeters installed. To help address concerns and answer questions about the new technology, PG&E will host three education programs at the Richmond District YMCA (360 18th Avenue) on February 22, 23, and 24, from 4pm to 6:30pm.
It's not a meeting format, just drop in anytime during the event if you want to learn more about SmartMeters. PG&E staff will be on hand to answer questions.
In addition to the public education programs, PG&E is also beefing up their customer service in anticipation of inquiries.
According to their press release, they have "dedicated 165 additional customer service representatives to improve customer service and help customers with billing questions, created a SmartMeter helpline dedicated to San Francisco residents at 1-866-743-0599," and updated their SmartMeter website.
Sarah B.