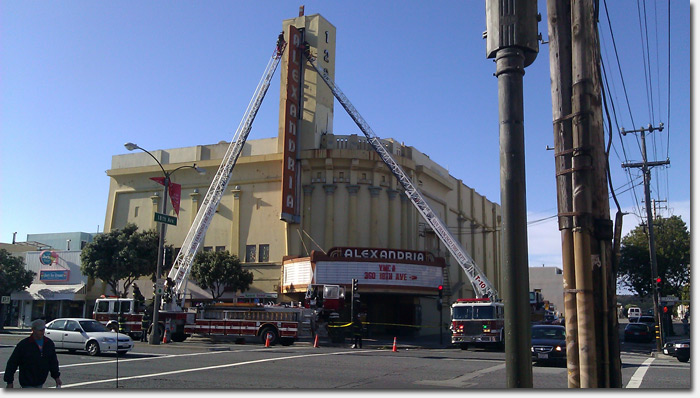 RichmondSFBlog reader Brian W. left a comment on our Facebook page yesterday, saying that a 10 foot piece of the Alexandria Theater (18th & Geary) marquee had fallen to the ground on Wednesday evening. No one was harmed in the incident.
Today I asked cub reporter David H. to check out the scene – take some pics, maybe talk to the store owner next door who had pulled the fallen piece off the sidewalk.
But when David arrived at the Alexandria Theater this afternoon, things were worse than he expected. He discovered the upper section of the vertical "ALEXANDRIA" marquee had come loose and was ready to fall to the street. David immediately called the SFFD, who came out to try and secure the upper section of the sign.
The vertical marquee is constructed in two parts – the top "ALEX" portion was the one coming loose under the strain of today's high winds.
Because of the winds and position of the marquee, the Fire Department made the unusual move of bringing another truck to the scene so two ladders could be put up, one on each side. Each firetruck ladder can extend to 100 feet. The top of the marquee is about 85 feet off the ground, so firefighters were just barely able to reach it from their ladders.
According to firemen, the upper brackets of the ALEXANDRIA marquee were completely rusted out. Ropes were lashed from the sign to the building in a temporary effort to prevent the loose section from falling.
Ronald Yu of Yuflux Engineering, located on Geary, was also on the scene and has made arrangements for a sign company to visit the Alexandria tomorrow. They'll bring heavier, taller cranes that will allow for a better assessment of the potential risks the marquee poses.
Depending on the condition of the sign, engineers may recommend removal which would require further city inspection and permits. In the meantime, Yuflux staff members will be keeping an eye on the marquee through the night.
The Alexandria Theater property has been unused, with the exception of two retail stores on the Geary side, since the theater closed in February 2004. Redevelopment plans have been filed with the city which include a 221 seat movie theater, ground level retail space, a restaurant, and a 4 story residential complex on the back parking lot on 18th Avenue.
Special thanks to David H. for calling in the SFFD, and for reporting and snapping pics.
Sarah B.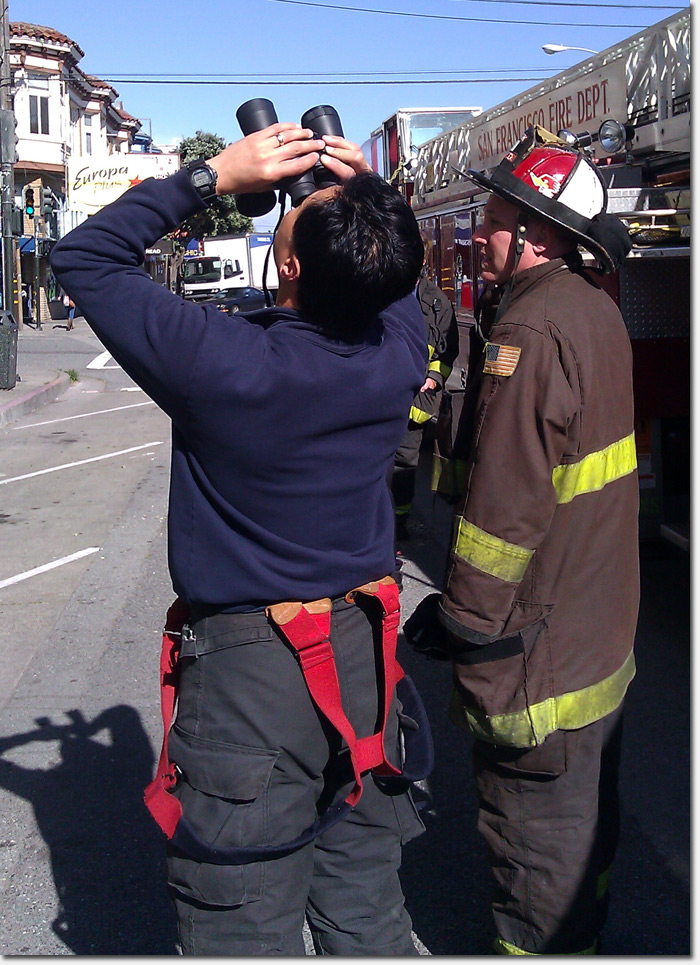 Firefighters watch their crew up on the marquee with binoculars.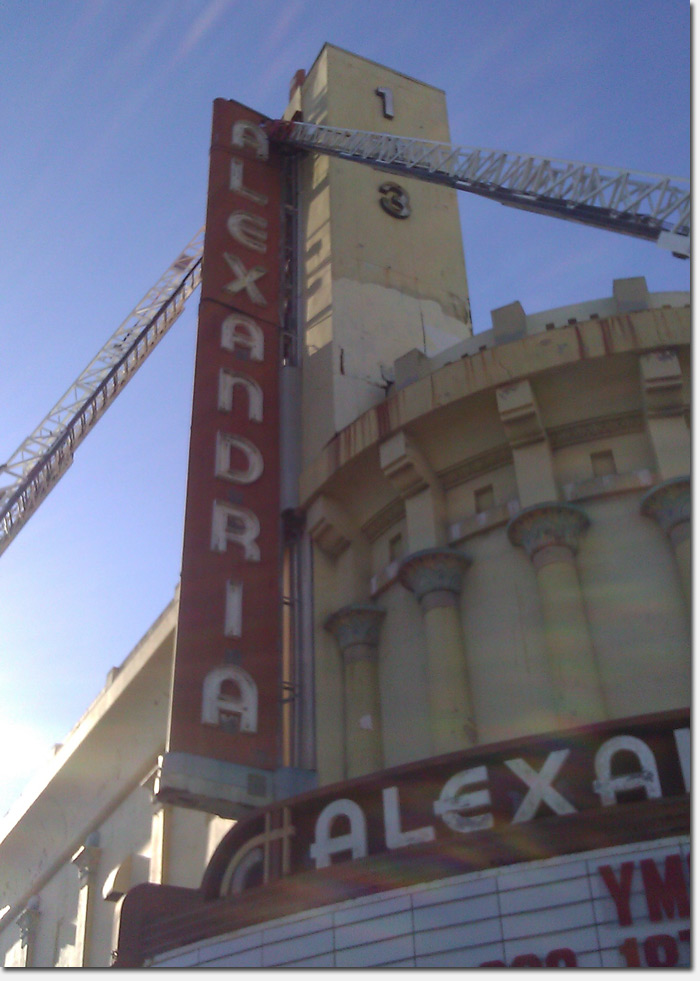 Two ladders were used to inspect and secure the top ALEX part of the marquee from each side.