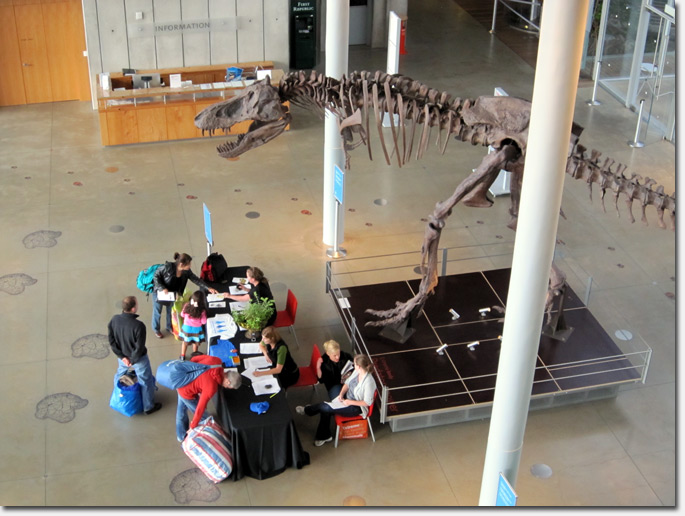 Last summer I covered the California Academy of Science's first Penguins+Pajamas sleepovers, which they offer regularly for kids age 6 up to 17. It's a unique way to experience the Academy in that it's much less crowded (limit 300 people), there's lots of special programming and best of all, you get to bunk with the Academy's everyday residents like the penguins and albino alligator.
Well, the Academy must have heard all the belly-aching feedback from the non-parent population, because they've added a special sleepover event just for grownups! Woo hoo! It's taking place on Saturday, June 4th.
During the first-ever Penguins+Pajamas for Grownups, sleepover guests ages 21+ will have exclusive after-hours access to the Academy's exhibits, and enjoy special programs like behind the scenes tours, access to the new Snakes & Lizards exhibit, two planetarium shows, and a late night movie.
Us grownups can also hang out in the exclusive Swamp Bar Lounge that includes interactive activities and games. Top that, kids!
When it's time for lights out, guests can set up camp in front of their favorite aquarium tank or exhibit, and settle in to snooze with the fishes – or the turtles, or even next to Claude, the albino alligator. Well not next to him, but right outside his tank.
The price for this unique experience? $99 per person for members, $119 for non-members. Add in a 4 course dinner at the Academy's Moss Room restaurant and it's $179 for members, $199 for non-members. Also included is breakfast on Sunday plus free admission to the Academy all day on Sunday (in case you just don't want to go home).
Got your pajamas all picked out? Head over to the Cal Academy website for more info and details on how to sign up.
Sarah B.