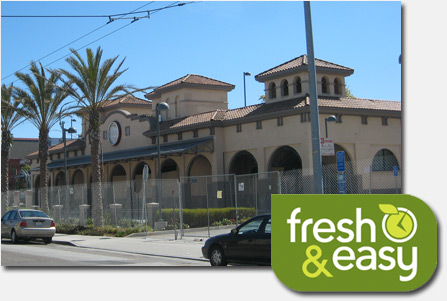 It's been a long time coming but the opening date has been announced as Wednesday, June 22 for the Fresh & Easy Neighborhood Market at 3132 Clement near 32nd Avenue.
The market's emphasis is on what its name infers – fresh foods and easy shopping. They get high marks from their Southern California customers for offering grocery basics at affordable prices along with fresh, prepared foods and meals.
Fresh & Easy is part of Tesco, a global grocery and general merchandising retailer headquartered in the UK. They are the third largest retailer in the world.
In honor of the opening on 32nd Avenue, Fresh & Easy is sponsoring a special $1,000 donation to a local, non-profit (hopefully one right in the neighborhood). Nominations can be submitted at freshandeasy.com. Store employees will select the winning charity the week the store opens.
Fresh & Easy is still hiring for the 32nd Avenue location; they expect to have more than 25 positions at the store. Interested applicants can apply online at freshandeasy.com.
"I look forward to the Fresh and Easy store opening and welcoming a new business that is partnering with the community and giving back to schools and community organizations in the Richmond District," said Supervisor Eric Mar.
Fresh & Easy will share the 3132 Clement Street space with CVS Pharmacy, but their opening date is unknown at this time. They were recently in the news for applying for a permit to sell alcoholic beverages (Fresh & Easy will also sell alcohol).
I'm sure there will be more details about the grand opening as we get closer to the date. I'll let you know what I hear but in the meantime, go nominate your favorite neighborhood non-profit for a chance to win them a $1,000 donation.
Sarah B.