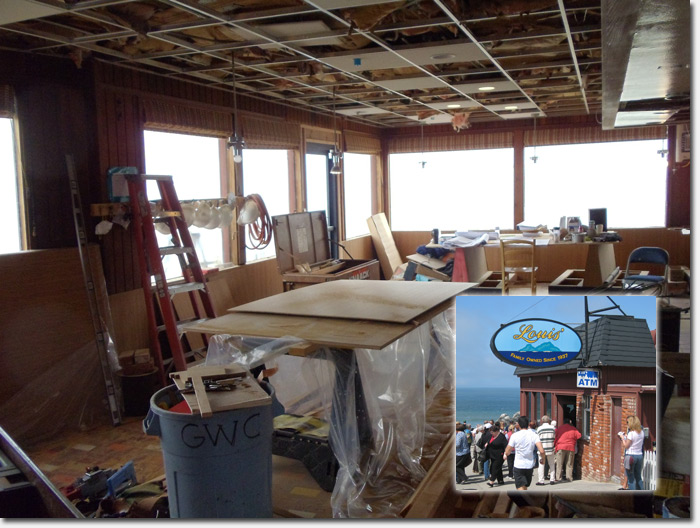 Renovations began on March 15, 2011 inside Louis' Restaurant
Last year, the Richmond District's iconic Louis' Restaurant underwent an arduous process to get their lease renewed and extended.
The restaurant, which sits perched on the cliff overlooking the ruins of Sutro Baths, has been owned and run by the Hontalas family for 73 years. The restaurant was on a year to year lease with the National Park Service (the diner technically sits on federal land), and federal law required that the restaurant space be put up for bid by other vendors.
After thousands of signatures, a resolution by the Board of Supervisors and lots of public support, the Hontalas family won their bid to keep Louis' going, earning a 10-year lease for their efforts.
But the lease had significant strings attached, including the requirement that they make major improvements to the physical building and change their food sourcing practices.
The restaurant closed in late November 2010 to begin the renovations, which was required at lease signing. However, the National Park Service was not ready for work to begin, so the start of the remodel was delayed until March 15, 2011. Unfortunately for the restaurant and its employees, that means nearly 8 months of being closed and out of work, as opposed to the original four they estimated.
I got in touch with owner Tom Hontalas who sent me a lengthy list of the changes they're making to Louis', which include gutting the dining room and most of the kitchen.
Many of the materials being put into the remodel are green, including new flooring tiles made with 55% recycled materials; they're recovering most walls with sustainable bamboo siding. They're using reclaimed wood on a new, second (emergency) exit that goes out the west side of the building onto the sidewalk, and installing LED lights throughout the dining room and T8 flourescent lights in the kitchen and storage areas. Even the new appliances are energy star compliant.
They're also installing a new fire sprinkler system and recovering all of their existing tabletops, booth and counter seats.
Louis' will also be ADA compliant after the renovations, offering a single, unisex bathroom with wheelchair access.
On top of all the renovations, Louis' is also required to change how and where they purchase food supplies for the diner. Their new lease stipulates that all the produce they purchase be certified organic and be sourced within 200 miles of their property. The only exception to this is tomatoes, which can be sourced from a further distance to seasonal availability.
Other requirements for their food sourcing include:
all bread, danish, muffins and desserts shall be sourced within 25 miles of the property
all meat shall be all natural, hormone and antibiotic free, vegetarian fed, and humanely raised
eggs shall be cage-free and sourced within 100 miles of the property
all coffee shall be certified organic and certified fair trade
While Louis' was welcome to choose whatever food vendors they wanted in the past, owner Tom Hontalas says these new requirements are just part of doing business. "We do understand that the NPS wants concessions that share their view as far as offering locally produced, organic, and healthy meals," Hontalas said.
In addition to changes from their new lease, the owners are also tapping their loyal customer base via their Facebook page for ideas on new menu items and how to improve service. Among the suggestions for new menu items were "lighter green salads", "healthier menu with local organic ingredients", and traditional waffles ("The kind with the small depressions, not those "Belgian" kinds").
All told, Louis' is spending $500,000 on the extensive renovations. When asked if the restaurant plans to raise their prices after it reopens, owner Tom Hontalas replied, "Due to increased rent, higher food cost, and the monthly loan payments, it is inevitable that our prices will increase. We always felt that we offered our customers a great meal at an affordable price, and we hope that they will still feel the same."
Louis' is hoping to re-open at the end of July. If you'd like to track their progress, follow them on Facebook or visit their new website (still under construction).
What do you think of the renovations and changes underway at Louis'? Leave a comment to let us know.
Sarah B.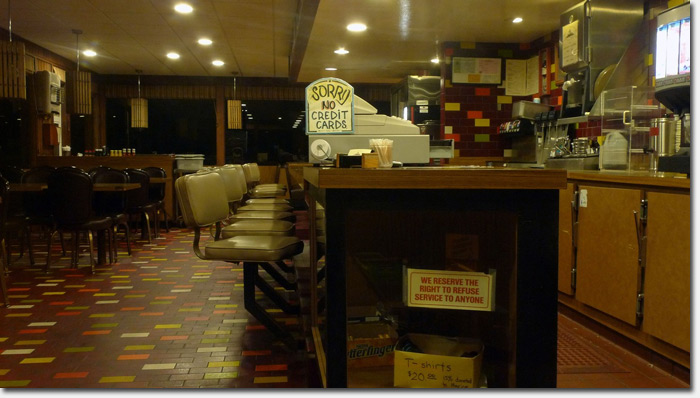 A photo inside Louis' before the remodel. Photo by The Tens.

Outside Louis' Restaurant, circa 1947. L to R: Louis Hontalas, his oldest son, John, Danny Hountalas and Danny's father, Mike. Danny now runs the Cliff House, also a concession of the National Park Service. Courtesy of Louis' Facebook page