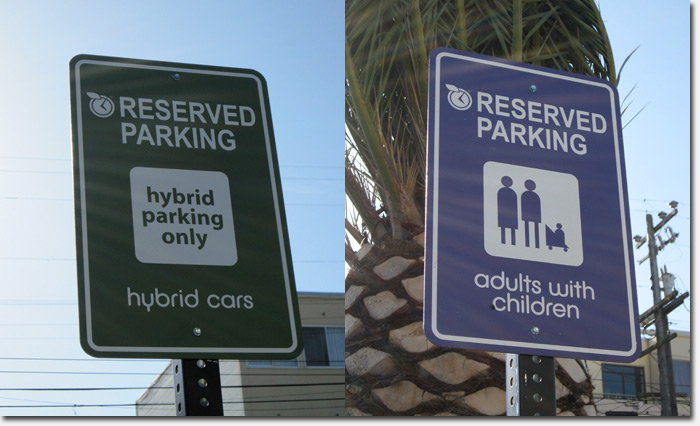 As reported today by Leah Garchik in the Chronicle, the new CVS Pharmacy and Fresh & Easy Neighborhood Market that opens next week is making their parking lot extra friendly for some customers.
In the lower lot on the 32nd Avenue side, there are four spaces designated especially for hybrid car drivers and adults with children. There are two spaces for each, marked with signs and a stencil in the space itself.
I didn't make my way to the upper lot (you enter from Clement Street), so there may very well be more designated spaces up there.

The two businesses will open their doors next Wednesday, June 22. CVS will occupy half of the interior space, with Fresh & Easy on the other side.
But don't worry – the green-minded and kid-toting crowd aren't taking over the parking lot. There's plenty of parking for regular shoppers too.
Plus we won't be seeing Fresh & Easy carts all over the neighborhood. There are sensors on the carts that prevent them from leaving the parking lot.
Sarah B.