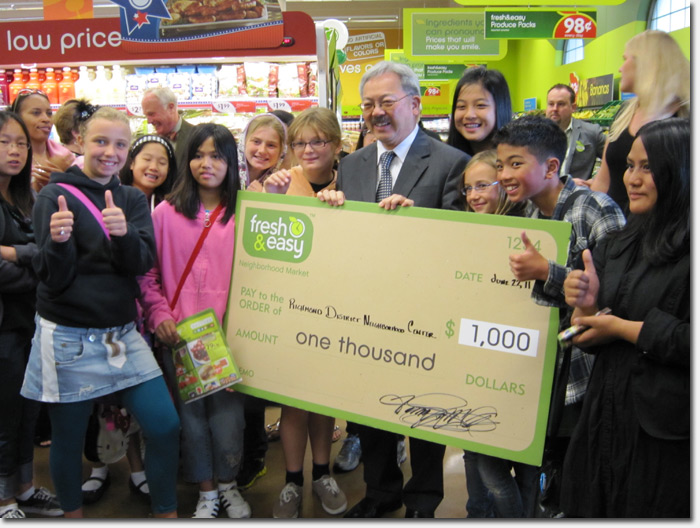 Mayor Ed Lee gathers with Presidio Middle School students around the $1,000 donation check that Fresh & Easy presented to the Richmond District Neighborhood Center.
This morning, the long-awaited Fresh & Easy Neighborhood Market officially opened the doors of its 127th store at the corner of 32nd Avenue and Clement. A few hundred people were lined up by 10am, waiting for the doors to open.
The store looks great with polished concrete floors, bright, wide aisles, nicely packaged food and a wide variety of food and brands. Fresh & Easy is well known for their own branded food, and you can't miss it in every section of the store.
The Fresh & Easy team opened up the store early for guests who got to roam the store and try some of their breakfast items including muffins, scones, breakfast burritos and juices. At times we heard loud cheers as the green-shirted store staff was given instructions on their first full day of work.
Shortly before 10am, everyone inside gathered near the self-service checkout counters to hear some representatives from Fresh & Easy speak about the opening.
Mayor Ed Lee was also on hand for the opening, and spoke about the importance of not only finally filling the vacant building, but also providing jobs for San Franciscans. Fresh & Easy has a policy of ensuring that at least 25% of a store's staff live within 4 miles. Most of the employees at the new store live in San Francisco.
During the festivities, Fresh & Easy presented a $1,000 check to the Richmond District Neighborhood Center. The company has a tradition of donating to a neighborhood charity at each new store opening.
After a hasty ribbon cutting, the eager shoppers were let in the front doors and shopping commenced.
Fresh & Easy is open daily from 8am until 10pm. CVS Pharmacy, located right next door in the other half of the building, will open on July 10.
The chain will also be opening a second location in San Francisco in the Bayview on August 24th.
Have you stopped by Fresh & Easy yet? Tell us what you think in the comments.
Sarah B.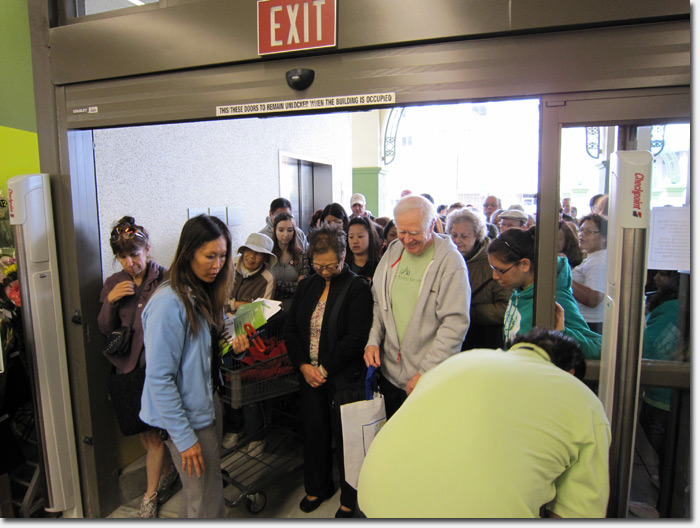 Ready, set, shop! A large crowd gathers outside the front entrance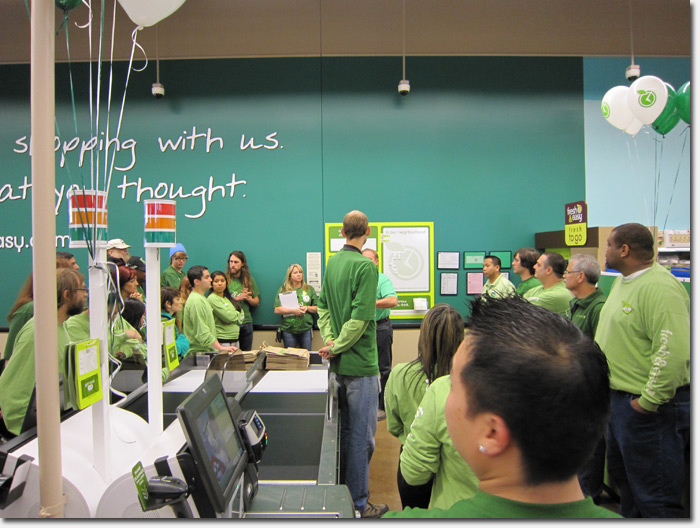 Fresh & Easy staff pow wow before the big opening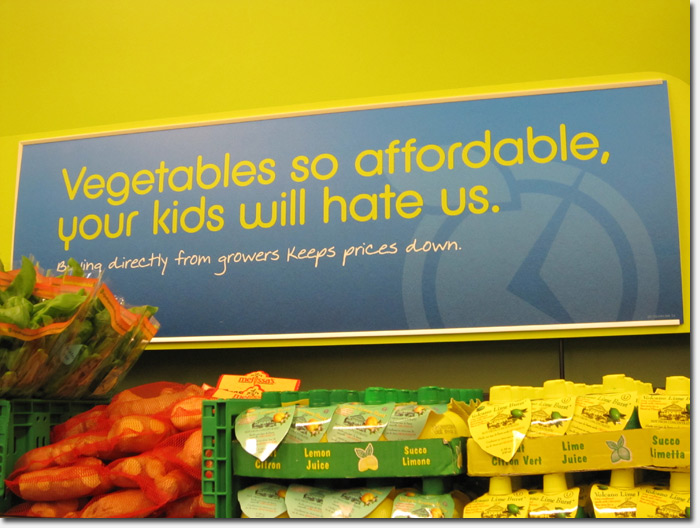 One of several humorous signs around the market