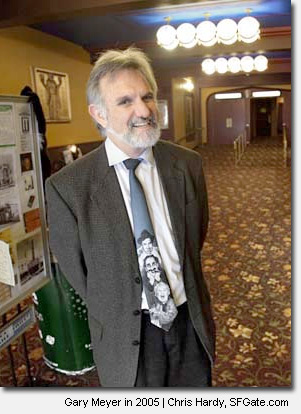 The Chronicle reports today that Balboa Theater owner/director Gary Meyer will be leaving his post in mid-August. He's been running the theater since February 2001.
Since he took over the lease, the Balboa has managed to survive through the growth of cinema megaplexes that have pushed many neighborhood theaters out of business or underwater. Our own Alexandria Theater closed in 2004, and the Clay Theater on Fillmore nearly closed this year.
Meyer told the Chronicle that his decision to leave was expedited by a potential technology upgrade the Balboa will need in the next few years. The theater would need to invest $200,000 in a digital conversion after learning from the National Association of Theatre Owners that film prints of movies might not be available in a couple of years.
"I can't rationalize doing that. Maybe somebody else can," Meyer told the Chronicle. "I made the decision that in mid-August I will be giving up the theater. My hope is that the theater will survive."
I've always enjoyed the great mix of programming that Meyer has brought to the old movie house. In addition to first-run movies, the Balboa offers special programs like this weekend's onhealthy neurontin order online festivities around the new "Make Believe" documentary about magic, Creature Features nights, and even HD screenings of opera, ballet and Shakespeare performances.
Meyer has also been a great supporter of local films and history, premiering and then providing a place for the "Remembering Playland" documentary to run for five months last year. The same filmmaker, Tom Wyrsch, is currently finishing a documentary about the Sutro Baths, which he hopes to screen at the Balboa.
The Balboa Theater opened in 1926 and was operated until 2001 by the Levin family, which still holds the lease. Meyer took over the lease in 2001. No word yet on who will fill Meyer's large shoes, but he'll be turning more of his attention to his duties as co-director of the Telluride Film Festival, a position he's held since 2006.
Meyer told the Chronicle he's been pleasantly surprised at the steady attendance he sees at the Balboa, but is still concerned for its future.
"If there's a message for people, it's 'Don't take your neighborhood theater for granted,'" he told the Chronicle. "They really need you to be paying attention to them if they're going to survive."
Sarah B.