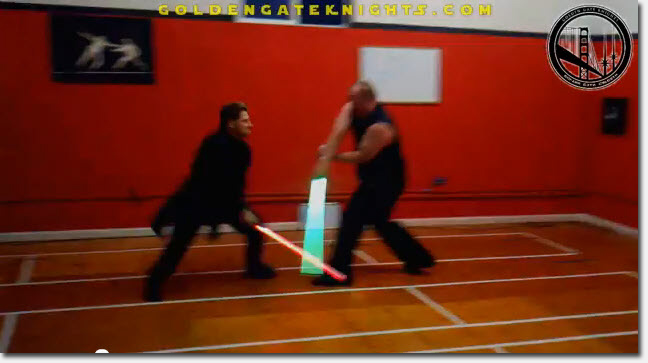 Recently, I got an email inviting me to check out a weekly class at the Coastside Fencing Academy on Balboa.
Coastside is a serious fencing school but behind its seemingly benign storefront in the outer Richmond lies an intriguing subculture of futuristic fencing warriors – or rather, knights.
Every Monday night from 7:30pm to 9pm, the Golden Gate Knights take over the Coastside Academy. They describe themselves as "a group of intrepid and dexterous awesomeness enthusiasts who gather for an evening of saber smashing and beer drinking set to epic electric guitar riffs."
Well of course I was intrigued. A few clicks later, I discovered it's not traditional rapiers they're wielding, but light sabers. Yes, you read that right – light sabers. Those infamous glow stick weapons from the Star Wars movies.
Luke vs. Darth Vader, Obi Wan vs. Darth Maul, Obi Wan vs. Darth Vader – you recall those epic battles that took place on the big screen. Well now you too can fire up a light saber and receive professional instruction from Battlemaster "Novastar", aka Matthew Carauddo who is also a licensed fencing instructor.
The group's website promises that as an apprentice to Novastar, "you will become an expert at saber choreography, spins, flourishes and a whole lot more." Check out this video.
Yeah, but what about Jedi mind tricks? Every class includes 5-10 minutes of "mind melting jedi meditation". Check.
The good news is that the class is not all serious study of the Jedi way. The band of rebels usually goes out for beer and cheeseburgers afterwards at the Tee Off Bar & Grill (32nd & Clement), where they take over the jukebox. I can't help but think of the bar scene in Star Wars…
The Golden Gate Knights meet every Monday night at 7:30pm at the Coastside Academy, 3201 Balboa. The class costs $15 and you can borrow a saber for free for your first month; after that you can rent one for $5 a class. Age 17 and over only (sorry, Anakin).
The website cautions, "Feel free to bring you own saber but practice caution. Saber blades have different strengths so pairing up your blades against ours might not be good." Duly noted.
In case your curiosity is peaked, do a little saber browsing at ultrasabers.com. Even if you don't go to class, you might just want one to wear around the 'hood.
Sarah B.