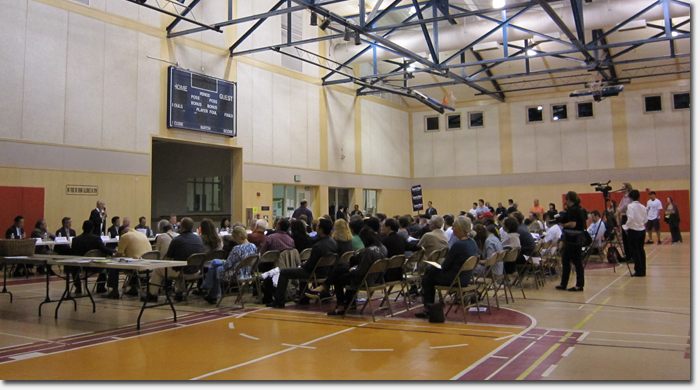 Last night, the Planning Association for the Richmond hosted a debate at the Richmond Rec Center, featuring a large field of candidates in the race for San Francisco Mayor. The format of the debate included four questions that were pertinent to the Richmond District neighborhood, addressing issues like empty storefronts, public transit on Geary Boulevard and proposed projects in Golden Gate Park.
Each candidate was given 1-2 minutes to respond to each question. With 13 of them in attendance, it took awhile to get through each question, but the crowd was patient and attentive, even in spite of no microphone for the first 45 minutes of the event.
Candidates that attended the debate included City Attorney Dennis Herrera, Supervisor Bevan Dufty, State Senator Leland Yee, Supervisor John Avalos, Supervisor David Chiu, Assessor Phil Ting, Joanna Rees, Public Defender Jeff Adachi, Cesar Ascarrunz, Paul Currier, former Supervisor Tony Hall, Wilma Pang, and Terry Joan Baum.
The candidates not in attendance were current Mayor Ed Lee, former Supervisor Michela Alioto-Pier, and Emil Lawrence.
While Senator Leland Yee did finally confirm his attendance on Monday morning, he was the first candidate to leave the debate, lasting only through the intros and first question. Dennis Herrera also slipped out early after answering the third question.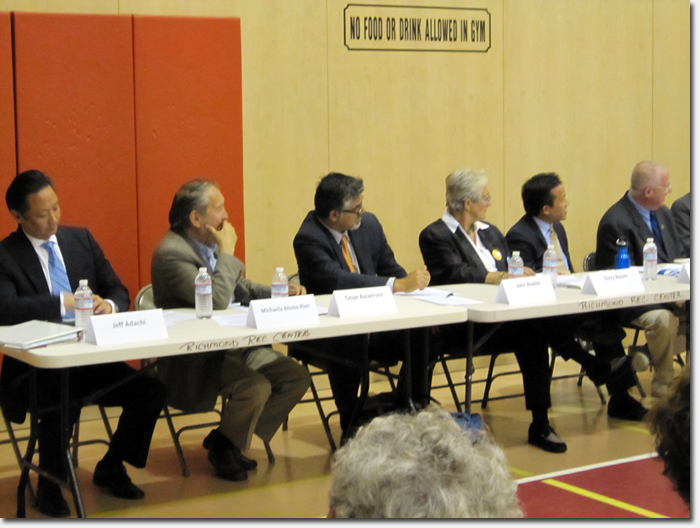 (L to R) Candidates Jeff Adachi, Cesar Ascarrunz, John Avalos, Terry Baum, David Chiu, and Paul Currier
Before launching into the questions, each candidate was given a couple of minutes to introduce themselves. If the debate ended there, Wilma Pang would have run away with it – she began her speech singing Chinese opera. Dennis Herrera called the election "the most important race we've had in 20 years", while Terry Baum introduced herself as a "pioneering lesbian playwright". Cesar Ascarrunz informed us it was his third time running for Mayor, Phil Ting said it was time to "reset San Francisco", and candidate Paul Currier closed his remarks by saying "Ed Lee said he wasn't going to run for Mayor."
Ah, you gotta love San Francisco elections.
Public transit on the Geary Corridor
Candidates were asked to weigh in on the proposed Geary Bus Rapid Transit (BRT) project, a subject of much debate among Richmond District residents. The project is designed to speed up buses and make service more reliable and comfortable along Geary Boulevard, as well as improve pedestrian conditions along the busy corridor with new medians, safer crossings, landscaping and countdown signals.
But the Geary BRT is dismissed by opponents as being too expensive, too disruptive to residents and businesses, and unrealistic in its goals. On the other hand, proponents believe that Geary Boulevard can become the "Great Street" it was always meant to be, and that bus riders will benefit from the service improvements and merchants from the increased ridership into the Richmond District.
Among the candidates, all of them agreed that either BRT or something like it was needed to improve MUNI service along Geary. Several candidates argued that we shouldn't wait for the BRT project (which wouldn't roll out to 2015), but that we should look at ways to make the transit corridor more effective now. Bevan Dufty said he plans to be "a bus yard mayor" and said the city should focus on improving on other MUNI issues before BRT such as fare evasion and drivers not showing up for work.
Joanna Rees, who frequently rides MUNI herself, told the crowd "we need to embrace our entrepreneurial spirit and apply it to our transportation." David Chiu, the only candidate who does not own a car, proudly held up his Clipper Card while he answered. Like other candidates he pointed out simple changes that could help improve MUNI efficiency now, like letting riders in the back door as well as the front. He even fantasized that with the BRT in place, "someday we can get taxis in the Richmond".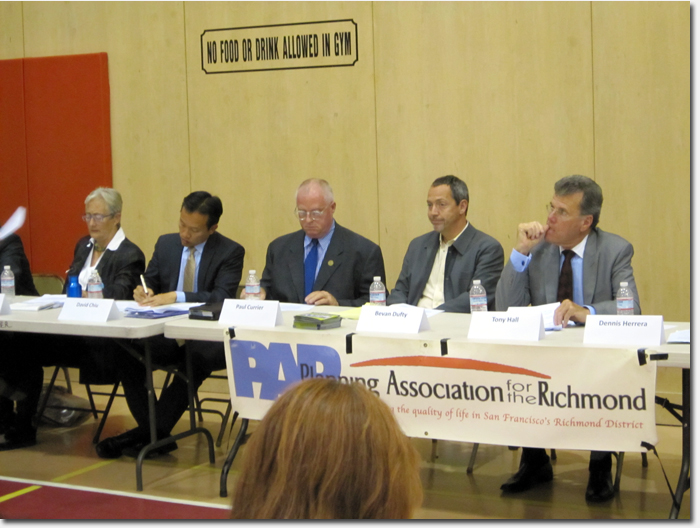 (L to R) Candidates Terry Baum, David Chiu, Paul Currier, Bevan Dufty, and Tony Hall
Only candidate Jeff Adachi said something different from the rest about his plan for improving transit out to the Richmond. "I favor having MUNI light rail extended as far west as possible," Adachi said.
Some of the more humorous responses came from the lesser known candidates like Cesar Ascarrunz, who took a moment to remind the crowd, as he did several times during the night, "I don't have nothing to lose." Well, except maybe the debate?
Even more mind-boggling was a comment from Paul Currier who started out his answer with some musings about riding MUNI, including this gem: "I like taking the #1 bus because the clientele's a little better." Um, ok.
Candidate Terry Baum took her first chance to throw in one of her campaign taglines, "Tax the rich, DUH", referring to how to get funds for transit improvements.
Economic growth in the Richmond District
Anyone living in the neighborhood for the past couple of years can see we've had a marked increase in the number of empty storefronts in our commercial corridors along Clement, Geary and Balboa. So much so that the Richmond District has the highest vacancy rates for commercial properties in the city. Candidates were asked, "As Mayor, how would you plan to bring new business and drive economic growth in the Richmond District?"
Most of the candidates' answers revolved around the highly challenging landscape that small business owners must navigate to not only start their business in the city, but to keep it going. Chiu pointed out that there are 15 different departments in the city that regulate and monitor small businesses. Rees talked about meeting Richmond District merchants who complained about the mountains of paperwork, licenses and permits required to run their businesses, on top of the costly fees that accompany them.
Tony Hall suggested addressing the burden that payroll taxes place on local businesses. "I support the elimination of payroll tax throughout the city, not just through the mid-market area for a couple of chosen companies," Hall said, making reference to the tax breaks that Twitter and a few other companies will receive when they move their headquarters into the mid-Market area.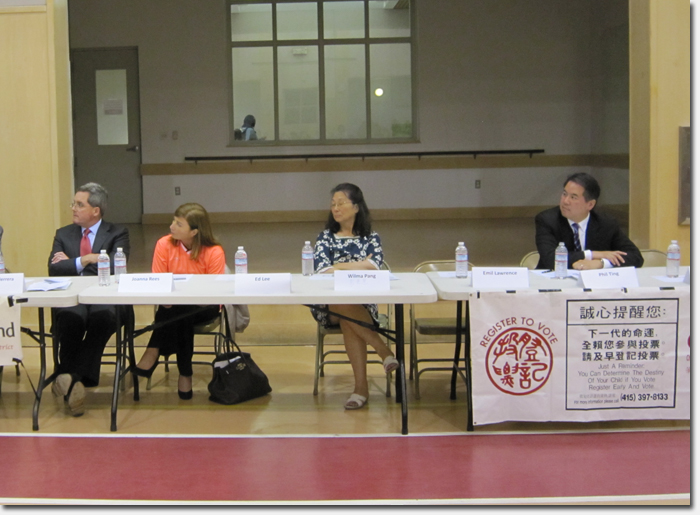 (L to R) Candidates Dennis Herrera, Joanna Rees, Wilma Pang, and Phil Ting
Dennis Herrera feels that the high cost of parking meters in the Richmond District has contributed to the downslide, stating, "There are certain corridors that are disproportionately affected by parking meters. Rates are too high here." Herrera added that shoppers are less likely to come to the Richmond District if parking costs several dollars per hour.
Wilma Pang got the prize for most creative suggestion for addressing the vacant businesses. A proponent of the arts, Pang suggested we "give artists a chance to occupy the empty storefronts" and offered to help those who ran into issues with authorities. "If you get kicked out by the cops, I'll talk to them," Pang promised.
Veterans Affair Medical Center (VAMC)
The VAMC, located at 43rd and Clement, is in a constant state of expansion as it grows its facilities, and residents are concerned about a lack of master plan and oversight. Hundreds of VAMC employees park in the neighboring Richmond District streets due to a lack of on-site parking at the complex. And despite a court-ordered mandate that the VAMC develop a master plan in conjunction with neighborhood groups before more capital improvements can be made, construction has continued.
Candidates were asked, "What would you do if elected Mayor to ensure that this runaway, undefined building scheme is appropriate for San Francisco's infrastructure, neighborhoods and parks?"
No one candidate had anything too exciting to say on this topic since the VAMC is technically a federal facility and project. Some spoke of working more closely with Senators Dianne Feinstein and Barbara Boxer to better understand the issues and address city concerns about the VAMC's plans. Several candidates promised to continue to listen to residents and to work with all parties involved to find a solution.
Projects in Golden Gate Park
Two major projects are currently undergoing environmental reviews in Golden Gate Park. The first is a water treatment plant in the southwest corner of the park. The second is a proposal to replace the Beach Chalet soccer fields with artificial turf and lighting, enabling the fields to be used year round and for more hours.
Even before tonight's debate began, there were rumblings in the media about an email that went out to soccer enthusiasts across the Bay, encouraging them to attend the debate to show their support for the Beach Chalet project.
While the crowd at the debate was healthy in size, it was definitely not filled with soccer-shirt-wearing gangs out to rally their cause. Ironically the only one in a soccer jersey, a bright coral one no less, was candidate Joanna Rees. She explained that it was her daughter's jersey and though all her children grew up playing soccer in the city, she is against the artificial turf fields because she "wants to listen to the neighbors that don't want it."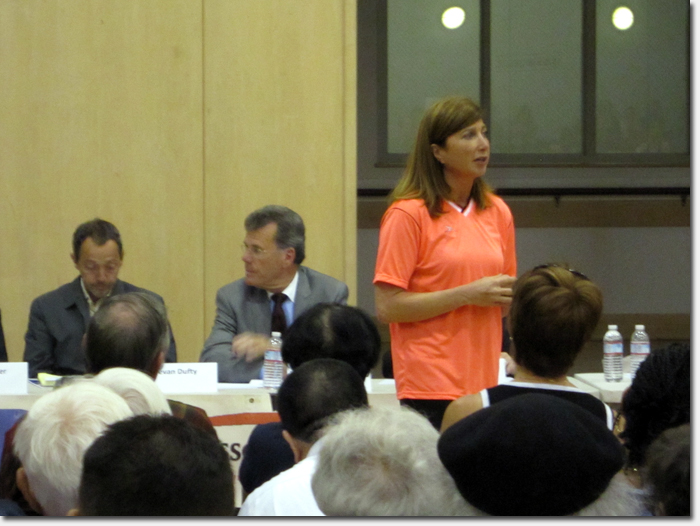 Candidate Joanna Rees wore her daughter's soccer jersey to the debate
David Chiu was neither for or against either project, but said that he had "healthy skepticism" for both of the Golden Gate Park proposals. "I got to play on real grass, in real light," Chiu said about his youth soccer experience (not in San Francisco). "Let's make sure Rec & Park is funded from general sources," he said.
The only candidate in favor of the artificial turf fields project was Bevan Dufty who said "I've seen these fields transform Garfield Park," referring to one of the first fields that was changed over to artificial turf. Dufty went further to say that he believes a parcel tax is needed to make sure that Rec & Park is fully funded, telling opponents of the Beach Chalet project to "pony up and stand up and support a parcel tax, or step aside and let's have fields that kids and young adults can play on."
In another puzzling response, candidate Paul Currier loudly proclaimed "If kids want to play on plastic grass, they can go to Treasure Island." Tony Hall pointed out a bit later that there are no artificial turf fields on Treasure Island, but stated he was against them anyway.
Candidate Wilma Pang started her response more succinctly, stating "The two ideas are not so great, they SUCK." Terry Baum, the green party-endorsed candidate in the race, called the proposed artificial turf soccer fields "an idiotic decision," and a poor response to a shortage of Rec & Park gardeners to properly care for the existing fields.
Cesar Ascarrunz opposed the fields due to his own soccer experience. "I was a professional soccer player. I hate artificial turf."
Much of the time was spent addressing the soccer field project, but most candidates went on record to say there were opposed to the water treatment plant, citing concerns about an industrial facility, and one under Homeland Security's domain, being placed in Golden Gate park.
After answering the questions, each remaining candidate was given a minute or so to make a concluding statement. Several of the candidates took the time to remind the audience that San Francisco offers a rank choice voting system where you can choose up to 3 candidates on the ballot, instead of just one. Ascarrunz used the closing remarks to hammer home his do or die attitude, stating "I don't have nothing to lose. My house is paid for."
Jeff Adachi began his closing remark with a dig at current Mayor Ed Lee who failed to attend the debate. "As Mayor, I would show up!" Adachi promised.
The election is coming up on November 8. If you're not yet registered, click here to get all the info.
Were you at the debates last night? What did you think of the event and the candidates? Leave a comment to let us know.
Sarah B.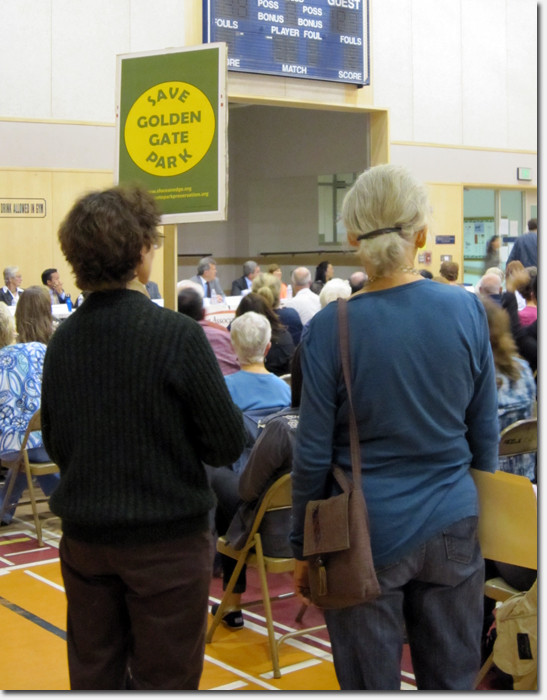 A few stood on the floor with signs opposing the projects in Golden Gate Park