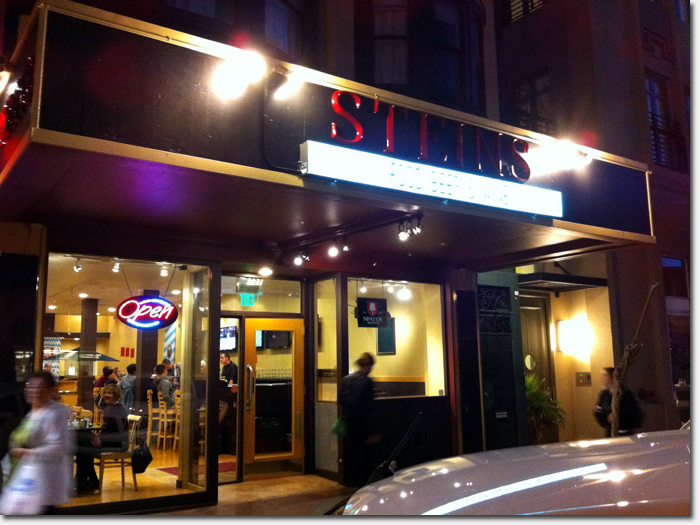 The new Steins restaurant, located at 731 Clement Street
While out for dinner Monday night, I noticed a couple of restaurant changes on Clement Street.
The former Burma Tea Leaf restaurant at 731 Clement Street near 9th Avenue is now "Steins", an American/German eatery offering lots of beer, five flat screen televisions over the bar, and a varied menu that includes bruschetta, burgers, chicken sandwiches, ghoulash, and bratwurst. The restaurant has a heavy emphasis on beer judging by the German beer signs and steins lined up on the bar.
The place was about half full, with many baseball-cap-wearing guys watching Monday night football. 🙂 If you've eaten there, leave a review for us in the comments!
A block up at 639 Clement is the home of King of Thai Noodle House, one of the neighborhood's best hole-in-the-wall places. They have closed their doors temporarily through September 30 for remodeling.
Coincidentally the space next door, a former photo store, recently moved out so I had high hopes King of Thai might be expanding their footprint (they only have about 6 tables inside). But alas, after eating dinner at their sister restaurant at 346 Clement, I confirmed that they won't be expanding, just re-opening after the remodel.
Bon apetit,
Sarah B.