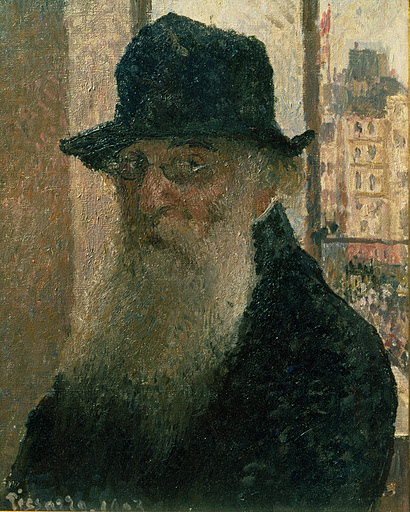 Last Friday we got a peek at the new Pissarro's People exhibition at the Legion of Honor, celebrating "Pissarro's personal ties and social ideas through his life-long engagement with the human figure".
Regarded as one of the most interesting artists of the Impressionist group, Pissarro is most known for his landscapes and urban views. But this new show focuses on a different aspect of his work that is more reflective of his personal passions.
The show explores three key dimensions of Pissarro's life that helped define how he represented the human figure in his paintings. The exhibition includes over 100 paintings and works on paper of his family, his friends, and subjects that reflected his intellectual involvement with the social and political theories of his time period (1830-1903). "Pissarro was a lifelong anarchist," begins one of the panels in the show.
Some of the works on display were created for close family and friends, and were never meant to be shown publicly. In a Pissarro first, the Legion of Honor exhibition brings together portraits of every member of the artist's immediate family, who was regarded as a devoted husband and father.
Pissarro was a quintessential family man, yet conformity was anathema to him, and he actively encouraged his children to express themselves as individuals. He taught them to draw, to develop intellectually, and to question the received values of French civilization of the period. Pissarro represented this lively family dynamic, as well as his many friendships, through an ongoing series of portraits and genre scenes. – from the Legion exhibition
Another gallery in the show highlights figure paintings in which domestic workers were the central motif. A maidservant drinks her cafe au lait during a quiet moment, other paintings portray washerwomen and laborers at work.
He had great respect for the laborers he lived among, and he drew parallels between his own work and theirs; for him, the physical labor of painting was a deliberate, repetitive act not unlike hoeing, harvesting, and plowing the earth.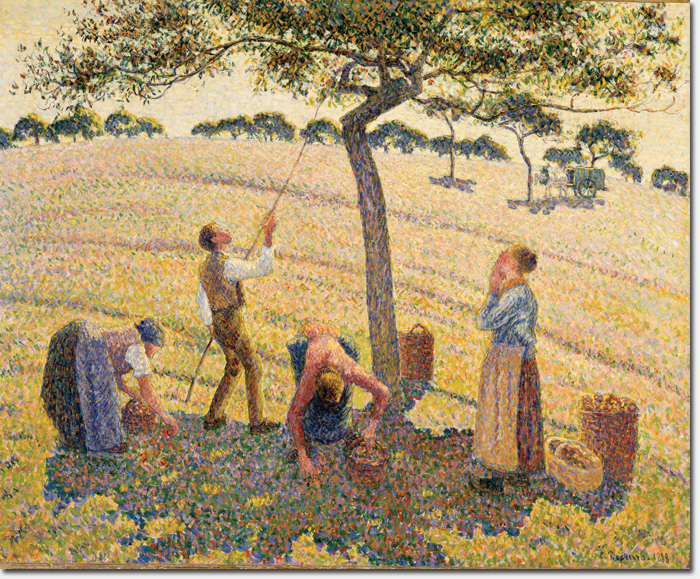 Camille Pissarro | Apple Harvest, 1888
Another room showcases a wonderful collection of works portraying rural markets in France, another extension of Pissarro's interest in labor subjects. The pieces show the energy of the markets where women shopped to prepare their meals, and he captures them chatting, jostling, bargaining, calling out and sometimes gossiping among themselves. His depictions are "devoid of the beggars, pickpockets, and predatory men who often inhabit nineteenth-century urban views."
A special gem of the exhibition is the inclusion of Pissarro's book of drawings entitled Les turpitudes sociales, being shown publicly for the first time. Described as a "biting album of anarchist drawings", Pissarro originally created it for his daughters who were living outside of France at the time. The actual book is on display, and panels displaying each page are on the walls.
The Pissarro's People exhibition is at the Legion of Honor Museum, located in Lincoln Park at 34th Avenue and Clement Street. The show runs through January 22, 2012.
Sarah B.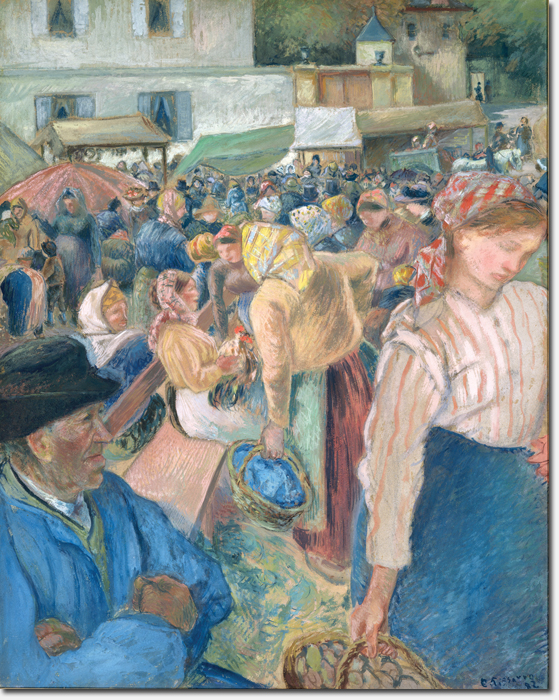 Camille Pissarro | The Marketplace, 1882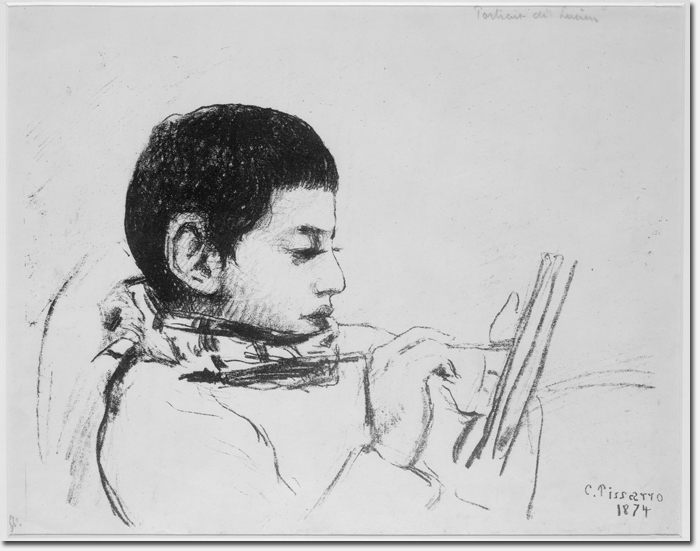 Camille Pissarro | Portrait of the Artist's Son, Lucien, 1874