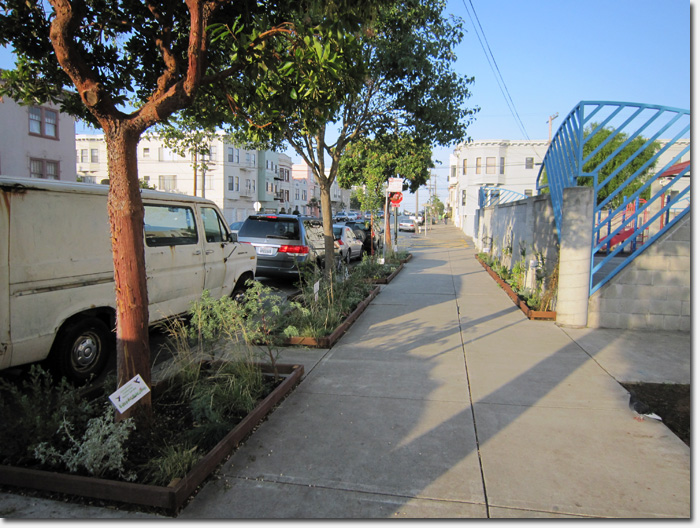 Last week, the students at Argonne Elementary School at 18th & Cabrillo got a lesson in how to beautify their campus. Step 1: remove some of the concrete and replace it with a garden.
For the past 10 years, Argonne students have been visiting the Children's Garden at the San Francisco Botanical Garden as part of their Youth Education Program. From that came a desire for Argonne to start its own garden on campus.
Then in February 2011, the Botanical Garden announced a new program called "Grey 2 Green", designed to teach residents how to transform their sidewalks into attractive, landscaped areas. "Less concrete. More jungle." is the program's theme, which is a joint venture with the Department of Public Works.
Argonne School was selected to pilot the program and after 3 months of work, 240 square feet of sidewalk along Cabrillo near 18th Avenue was converted into a garden with 15 varieties of California Native plants, as well as bee and butterfly habitats.
The garden celebrated its grand opening last Friday which included a ceremonial planting of a Strawberry Tree (Arbutus Marina) by the students.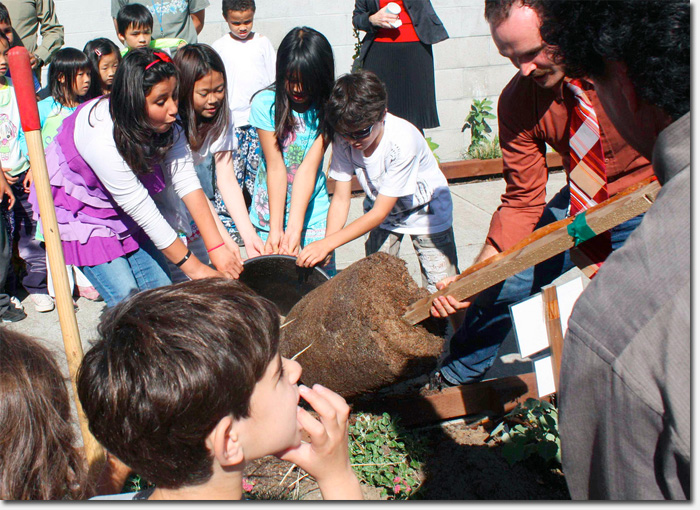 "Our school community has been transformed by this partnership with Grey2Green," said Tina Eshaghpour, Parent Teacher Organization (PTO) Green Argonne Chair.
"We have seen concrete sidewalk, where people dump trash, transformed into a learning and community meeting place, where students delight in the butterflies that visit and neighbors pause to give us a smile and express appreciation for making our street more beautiful."
Interested in transforming some of the grey outside your home into green? The Grey 2 Green program is still underway. Around 250 residents have attended the workshops so far this year, and the final one for 2011 will be held on Saturday, November 12 at the Botanical Garden in Golden Gate Park from 9am until 10am.
Sarah B.