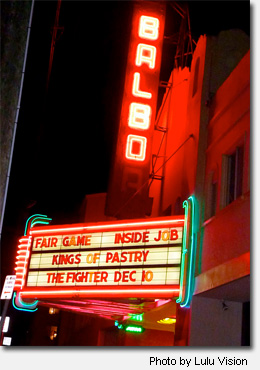 Ok, exhale… The Balboa Theatre will survive! The San Francisco Neighborhood Theater Foundation announced yesterday that it has teamed up with theater Director Gary Meyer to keep the Balboa open, and develop a long-term plan for its future.
And to prove their investment in keeping the theater open, the Foundation also announced that it has secured its lease through 2024.
Balboa Director Gary Meyer shared the news in his weekly newsletter this week, and talked about his role in the new partnership:
The Theater Foundation plans to initiate a fundraising campaign immediately to cover the costs of necessary repairs and improvements to the Balboa Theatre. I will continue to operate the theater under the guidance of our General Manager Roger Paul and his terrific staff for the time being but together we will look for someone who can put their full energy into making the Balboa an even better place to enjoy the movies.
As I have stated previously, I cannot do both my full time job at the Telluride Film Festival and all of the things necessary to make the Balboa a continuing success. There is a tremendous amount of "behind-the-scenes" work that goes on to get the films, promote them and oversee the business.
The Balboa Theater opened in 1926 and was built by the Levin Family who operated a network of San Francisco theatres that included the Metro, the Coliseum, the Coronet and the Vogue.
The SFNTF has a history of keeping old San Francisco movie houses going. It purchased the Vogue Theater on Sacramento near Presidio in 2007.
"It's great to be able to save another of San Francisco's last remaining neighborhood cinemas, said Alfonso Felder, president of the SFNTF. "Gary Meyer has done an incredible job keeping the Balboa going and providing the Richmond district with an exceptionally well programmed neighborhood theatre. We're looking forward to working with Gary to establish a plan to keep the Balboa's marquee lit for many more years."
On November 5th at 10am, the SFNTF will host an open house at the Balboa. Members of the Theater Foundation's Board of Directors will be present to answer questions and solicit input. Fundraising efforts will also be discussed.
Hurray for the Balboa and the SFNTF! I'm thrilled that this neighborhood landmark will remain open and provide entertainment for the next generations of movie fans.
Sarah B.