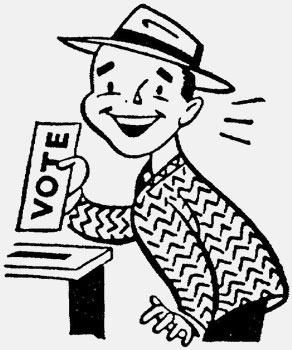 I was away on vacation during election week, but kept an eye on the race from afar. When I returned, I had a nice email in my inbox from RichmondSFBlog reader SFBear, that included a link to a PDF document that breaks down who and what got the votes, by precinct and neighborhood.
So in the spirit of neighborhood self-interest, I thought you all might be interested to see how we voted on the issues. Here's a quick recap of voting activity in the Richmond District for the 2011 fall election, which included positions for District Attorney, Sherriff, and Mayor, as well as several ballot measures (A-H).
Of the 35,909 registered voters in the Richmond District, 12,900 or 36% turned out to vote (18% in person at the polls, 18% by mail). That's a little lower than the city average which was 40.67%. Overall, this was the lowest turnout ever for a mayoral election, which usually draws about 50% voter turnout.
In the District Attorney race, 41% of votes in the Richmond were cast for George Gascon which was in line with his margin overall (41.89%). Runner up with 21% of the vote was Sharmin Bock.
The votes for Sheriff were much tighter with Paul Miyamoto receiving 33% of the votes and Ross Mirkarimi receiving 32%, with only a 169 vote difference. Mirkarimi ended up winning the position after garnering 38.03% of the vote city-wide.
In the mayoral race, Ed Lee received 2.5x more votes than the second vote-getter, Supervisor John Avalos. Coming in third was Leland Yee, followed by David Chiu and Dennis Herrera.
Overall, the six Chinese mayoral candidates in the race – the most ever – collectively received 65% of the votes cast in the Richmond District. Ed Lee pulled in 36% of those votes versus the 31% he won with citywide.
The lowest vote counts for mayor went to Cesar Ascarrunz (21), Paul Currier (29), and taxi driver Emil Lawrence (29). And despite having her campaign headquarters here in the Richmond District, Joanna Rees only pulled in 289 votes.
Among the ballot measures, only votes on Measure H – School District Student Assignment differed significantly here in the Richmond District. 60% voted yes on the measure, which would place the highest priority on assigning each student to the school closest to home, after placing siblings in the same school. City-wide, only 50.1% voted yes on the measure.
Official election results can be viewed on the sfelections.org website, and if you want to check out how other neighborhoods voted on the issues, download the PDF (29MB, 280 pages).
And in case you weren't registered in time for the election, don't miss out on the next one – register today to vote.
Sarah B.