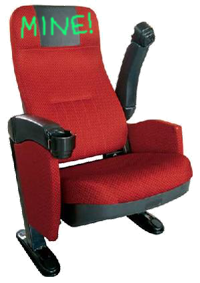 Now that it's been confirmed that the Balboa Theater will be around for awhile, plans are underway to make improvements to the 85 year old movie house.
One of those improvements includes installing new seats in both of the Balboa's theaters. To aid in their fund raising campaign, the Balboa is offering a Sponsor-A-Seat option for patrons, who can get a permanent nameplate affixed to one of the new seats.
All that's required is a $500 tax deductible contribution to the San Francisco Neighborhood Theater Foundation, the non-profit organization that has a history of preserving and maintaining old San Francisco movie houses.
Can you think of a better gift for the movie-lover in your life? No word yet on whether your seat at the Balboa will always be available to you when you go there to catch a flick, but I'm guessing if someone is in your nameplated seat and you flash your ID, they'd probably move… 😉
To find out more about the Sponsor-A-Seat program, download the application form.
Sarah B.