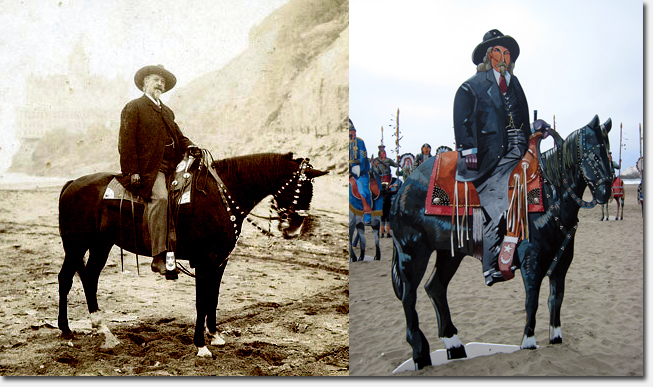 An interesting tweet from the Western Neighborhoods Project reminded me of a fun exhibition that took place in September, 2008 at Ocean Beach.
But first we have to go back more than 100 years to September 1902, when Bill Cody (aka Buffalo Bill) and his Wild West Show paid a visit to San Francisco. While they were here, he and his Indians lined up on Ocean Beach – on horseback – for an impressive panoramic photo with the grand Cliff House in the background.


Buffalo Bill and his Wild West show crew line up on Ocean Beach, Sept. 1902. Photo from the Cliff House Project
They also stopped by the Cliff House as seen in the photo below. I hope Buffalo Bill got a chance to stop in Sutro Baths while he was out here. I'm sure the eclectic collection of Sutro's Museum would have appealed to the world traveling cowboy.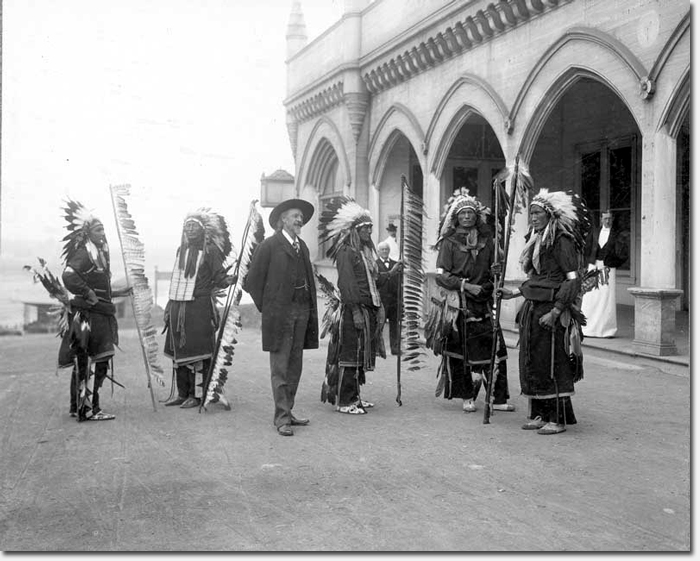 William F. Cody and five Native American men standing beside Cliff House, 1902.
Courtesy of the William F. Cody Archive
One of the most colorful figures of the American Old West, Buffalo Bill became famous for the shows he organized with cowboy themes, which he toured in Great Britain and Europe as well as the United States. According to Wikipedia, he earned his nickname "after the American Civil War when he had a contract to supply Kansas Pacific Railroad workers with buffalo meat. Cody earned the nickname by killing 4,280 American bison (commonly known as buffalo) in eighteen months from 1867–68."
Fast forward to 2008, when artist Thom Ross thought up the idea to recreate the infamous photo of Bill and his crew on Ocean Beach. Ross used a high quality version of the original 1902 photograph to create 100 life-size, painted cut-outs of the mounted Wild West show members.
It was an impressive sight to behold the Wild West horsemen brought back to life under the Cliff House again, albeit a completely rebuilt one from the Cliff House that stood there in 1902.
"It's a Valentine to my hometown," Ross, a San Francisco native, told the Chronicle back when the exhibition took place.
Sarah B.