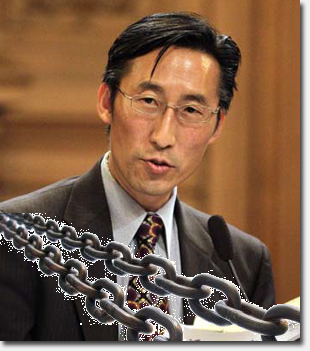 After successfully chasing PETCO away from taking over a long vacant 5,000 sq. ft. retail space at 5411 Geary, Supervisor Eric Mar is considering increased chain store restrictions, according to The Examiner.
In late October, after a prolonged dogfight with City Hall and neighborhood pet store owners, PETCO officially withdrew their application for the space.
We asked how readers felt about PETCO being shown the doggie door in a survey in late July. The results? 61% disagreed with the Board of Supervisor's approval of the uber-specific legislation that banned formula pet retailers from Geary between 14th and 28th Avenues.
You all had plenty to say about it in the comments too. "
It seems that keeping chain pet stores out of the Richmond District isn't enough for Supervisor Mar, who tells the Examiner he is concerned about the upcoming Target store openings, including one at Masonic and Geary.
"I am concerned about the many ways corporate chain stores threaten the well-being and quality of life of our community," Mar said.
In typical City Hall style, there will be a hearing on the topic, spearheaded by Mar.
So, what do you think? Are you in favor of continuing to keep any chain store out of the Richmond District? Or should we allow them in to help fill the many vacant retail spaces in the neighborhood? Leave a comment to let us know.
Sarah B.