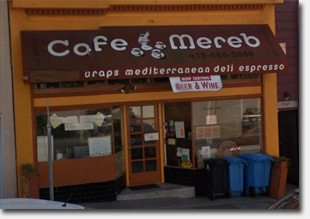 RichmondSFBlog reader Denise sent me a tip last week that Cafe Mereb, a small spot on Clement Street near 17th Avenue is closing later this month. I walked by this past weekend and saw a for sale sign in the window.
Denise is sorry to see the cafe closing. "I imagine it is tough to have a business on that part of Clement where there isn't that much foot traffic. They have been there over 5 years and I was so excited when they opened so we could get some Eritrean food in the outer Richmond."
In addition to its Mediterranean fare, the cafe was known for its Eritrean specials every Saturday and Sunday, as well as its weekend brunch.
Cafe Mereb is not the only business on the 1500 block of Clement. Neighbors include newcomer Hot Sauce and Panko, stalwart San Francisco Brewcraft, a hair studio, and an electric appliance store and repair shop.
But despite having a nucleus of stores, that is a particularly quiet stretch of Clement. The owner of Cafe Mereb, a woman, explained to Denise that "business isn't good".
You wouldn't know it from its 78 Yelp reviews, which net it a 4 out of 5 stars with comments like "Want the best falafel sandwich in town? Then come here." and "I could not pick a better place to live so close to. I've tried many of the menu items and have not been disappointed yet!"
Denise said Cafe Mereb will remain open until about the 20th of this month. So if you are a fan of the cafe or have been meaning to try it, don't delay (note: closed Wednesdays).
Sarah B.