The Bay Citizen reports that this week, the Board of Supervisors unanimously agreed to support a resolution renaming Speedway Meadow in Golden Gate Park after Warren Hellman.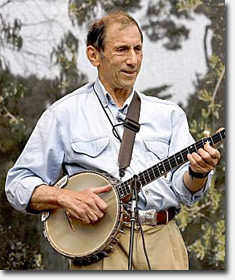 Warren Hellman is well-known, local financier who has made many contributions to Golden Gate Park over the years. He personally finances the popular Hardly Strictly Bluegrass Festival every summer and was instrumental in getting the underground parking garage built for the Academy of Sciences and de Young Museum.
Speedway Meadow is home to the Bluegrass festival every year, hence the effort to rename it in Hellman's honor.
"I am absolutely blown away by this gesture," Hellman said in a statement. "Golden Gate Park is home to some of the best (and worst) moments of my life: family picnics with my wife, kids and grandkids, morning runs, over a decade of Hardly Strictly Bluegrass, and of course the longest eight years of my life building the underground garage. There are no words and my fingers couldn't pluck a tune to express my gratitude. My only hope is that others experience the joy and happiness I've found standing, singing, plunking and listening in this beautiful meadow. Thank you," Hellman told the Bay Citizen (of which he is Chairman).
While this sounds like a nice gesture to honor Hellman's significant contributions to the park, not everyone is on board. Several commenters on the Bay Citizen story said it is in poor taste to name something after somebody who is still living. Hellman, 77, has been hospitalized recently for a treatable form of leukemia.
Other commenters say that is just one step closer to handing the park over to corporate interests. "Now he's buying part of Golden Gate Park," one person wrote. "Naming public realm for wealthy private citizens is the camel's nose under the tent," wrote another.
The Board of Supervisors is set to vote on a resolution recommending the name change to the Recreation and Park Commission next week. If approved, the Rec & Park Commission will then vote on whether to rename Speedway Meadow.
What do you think? Take the poll above and leave a comment to let us know your thoughts.
Sarah B.