Late last week, the Bay Citizen ran a story on the percent of the Bay Area population that is living in poverty, based on new data from the U.S. Census Bureau.
The government defines a family as living in poverty if their annual household income income is less than $22,113.
The article includes a map with shaded areas indicating poverty level. The image below shows the neighborhood, which features several areas designated as having 8% to 20% of its residents living in poverty.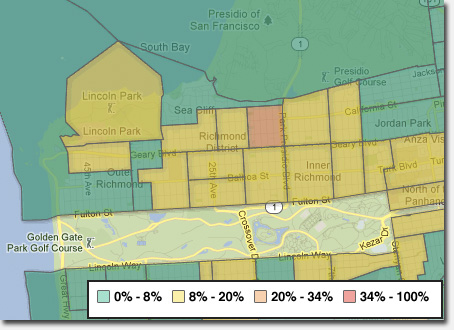 One small section of the neighborhood – from Geary to Lake Street, and 19th Avenue to Park Presidio – is shaded red, indicating that 20% to 34% of the population there is living in poverty. Of the 3,666 that live there, 740 are in poverty (20.2%). It also states 213 are in extreme poverty, though it's unclear if the 213 are part of the 740, or in addition to.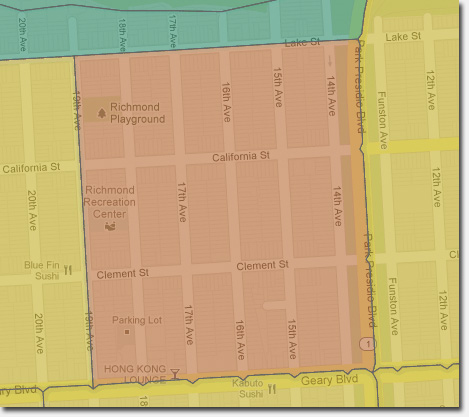 It's interesting that this one pocket of the neighborhood exhibits such a high level. In fact it's the only area at that level of poverty in the western end of San Francisco. The next closest "20% – 34%" area is in the Fillmore.
You wouldn't know it walking around that neighborhood, filled with quaint, well kept single-family homes on Lake Street and well-maintained apartment buildings on every block. A brief look at Zillow indicates homes are selling in that grid beginning at $699k up to $1.5M. There's even a flat that rents for $5,400 a month.
Which all gets back to the Bay Citizen's original story angle, which is that rich and poor are living side by side in San Francisco. Why should the Richmond District be any different?
Nevertheless, I'm surprised that this "impoverished" section is also in one of the most sought after areas for real estate in the neighborhood.
So did something go awry with the data that was collected? What do you think? Real data or a data aberration?
Sarah B.